Female guitarists are underrated. Yet!
29 May 2023
All too frequently, when we consider the most well-known or the "greatest" guitarists, our thoughts turn to the men who have dominated popular culture throughout the years. We here believe that it is finally time for women to take center stage and receive the recognition they have long been denied.
1. Joni Mitchell – Singer, Guitarist, Painter
Numerous sources have acknowledged Joni Mitchell as one of the best female guitarists and musicians of all time. One of the greatest composers of all time, according to Rolling Stone, and the most significant and influential female music artist of the late 20th century, according to AllMusic, when the dust settles. Mitchell describes herself as a "painting sidetracked by circumstance," despite the fact that she has enjoyed all of this success.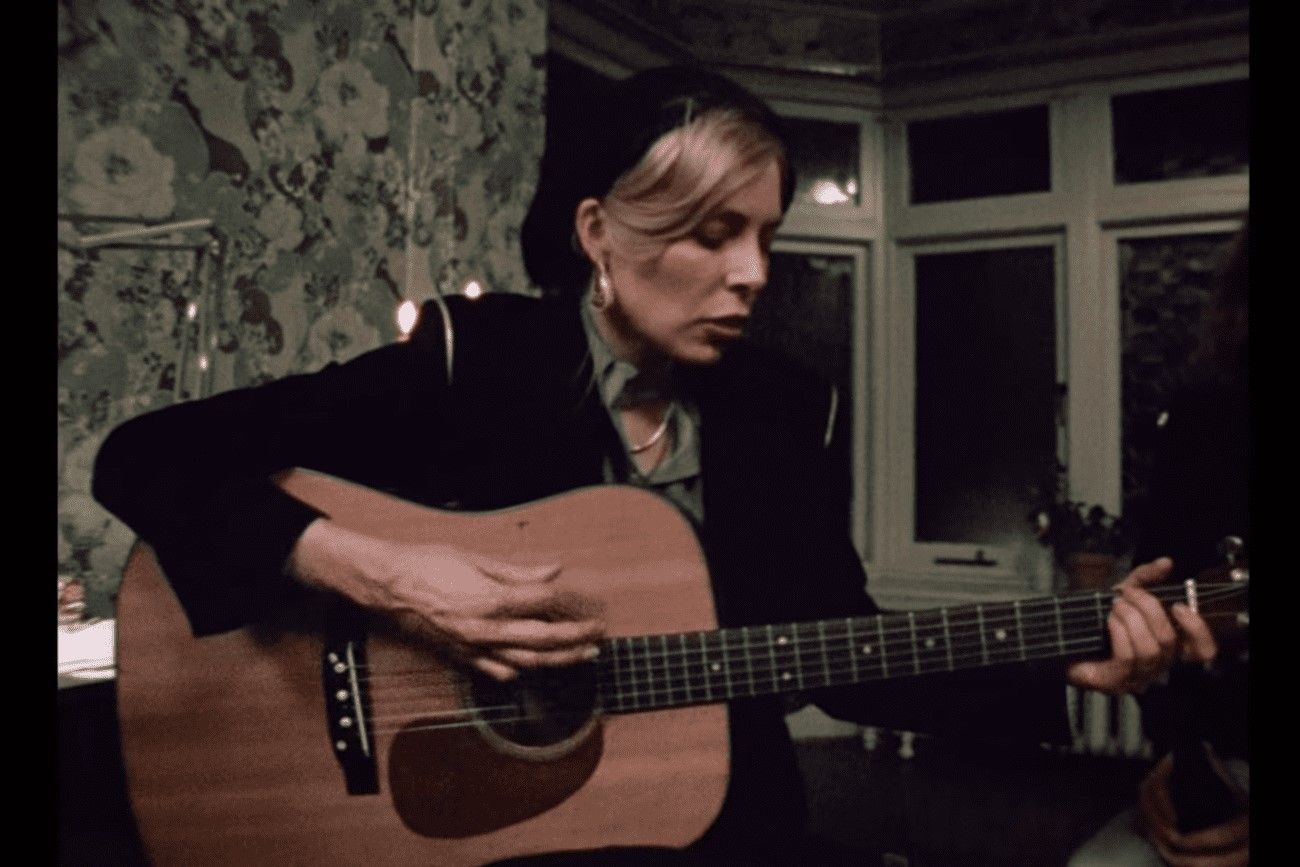 © Joni Mitchell - Coyote (Live at Gordon Lightfoot's Home with Bob Dylan & Roger McGuinn, 1975)/ Swingin' Pig/YouTube.com
2. Noveller – Project of Sarah Lipstate
Noveller was Sarah Lipstate's solo electric guitar endeavor when it first started in 2009. Sarah Lipstate defines her love for the guitar in the following way on her website, sarahlipstate.com: "Using the guitar as her muse, Lipstate summons a sound palette so rich that it challenges the listener to imagine how it's housed in a single instrument controlled by a lone performer." She has performed as a headliner and an opener on tours around the United States and abroad for her devoted followers.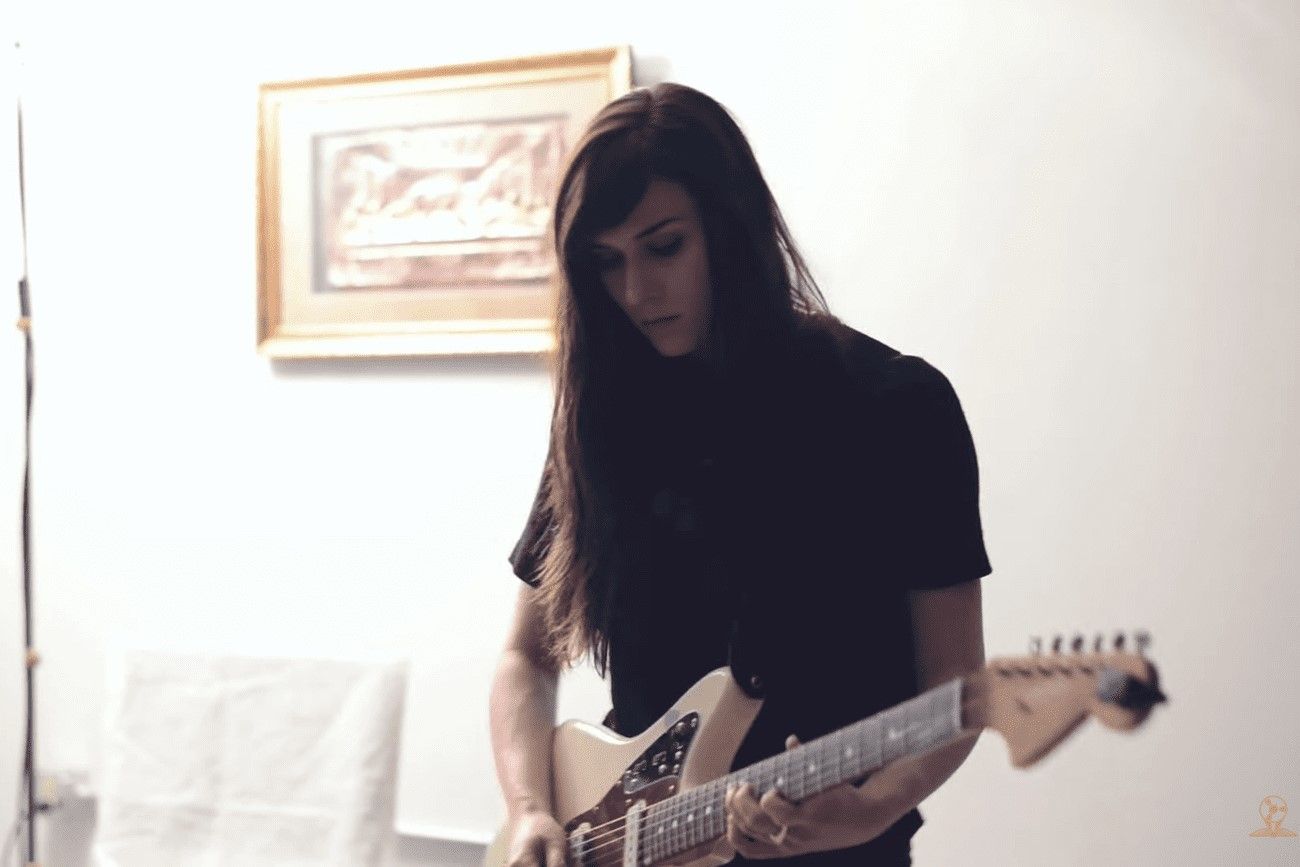 ©Noveller - No Dreams | Historian Session/Historian Recording Co./YouTube.com
3. Ava Popovic – Serbian Blue Guitarist
Ana Popovic was born in Belgrade and was first exposed to the blues at the age of 15, which she fell in love with despite the genre being predominantly American in origin. Despite this, she was touring Serbia, Greece, and Hungary by 1996. Ana and her band, Hush, played in more than 100 shows across Europe in just two years. She was performing with American music icons by the year 2000, and she quickly gained recognition here.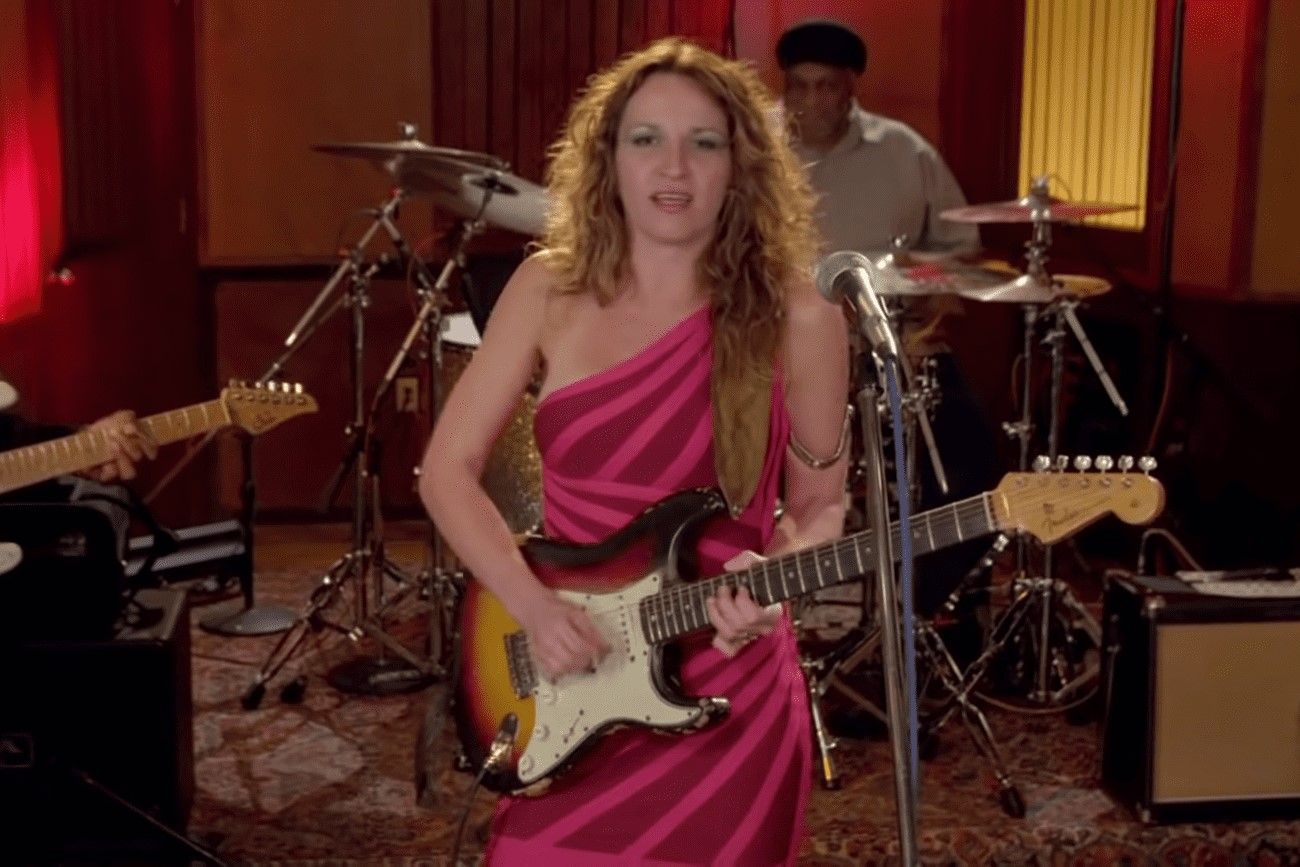 ©Ana Popovic - Can't You See What You're Doing To Me/Ana Popovic/YouTube.com
4. Gabriela Quintero – Rodrigo y Gabriela
Perhaps Gabriela Quintero's performance with bandmate Rodrigo Sanchez is her most well-known work. The two supposedly became friends over their mutual love of music when they first met, when they were both fifteen years old and lived in Mexico City. The two left Mexico because they were dissatisfied with the lack of opportunities for guitar players there and moved to Dublin, Ireland. They performed at the White House and worked on Hollywood movies in the years that followed.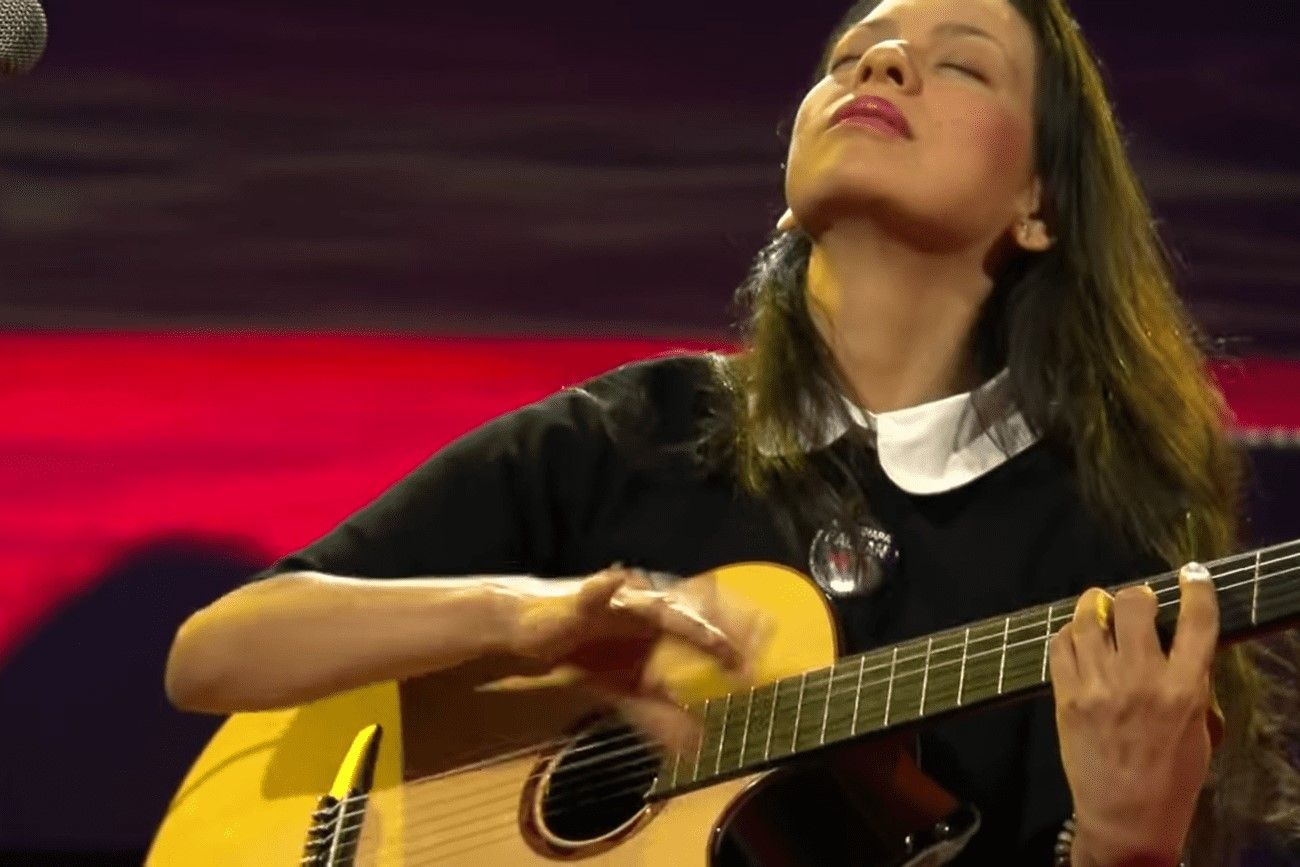 ©An electrifying acoustic guitar performance | Rodrigo y Gabriela/TED/YouTube.com
5. Debbie Davis – Blazed a Trail
Since she has been playing the guitar for many years, Debbie Davies has become well-known among blues music fans. Since the 1980s, Davies has performed with Tommy Shannon and Chris Layton in their band, Double Trouble, as well as Jimmy Buffet, Albert Collins, and other notable musicians.
More than that, Davies' participation in largely female-only blues ensembles has promoted the inclusion of women in the once exclusively male field, bringing even more amazing talent.
6. Sue Foley – Singer and Guitarist
Sue Foley was an early entrant into the blues music industry who eternally left an impact on that culture, much like Debbie Davies. Sue Foley, who performed her first solo performance at the age of 16, was certain she would become a blues singer. As a result, she joined a band as soon as she graduated from high school and started touring Canada.
In May 2020, 28 years after the publication of her debut record, she was presented with her first Blues Music Award.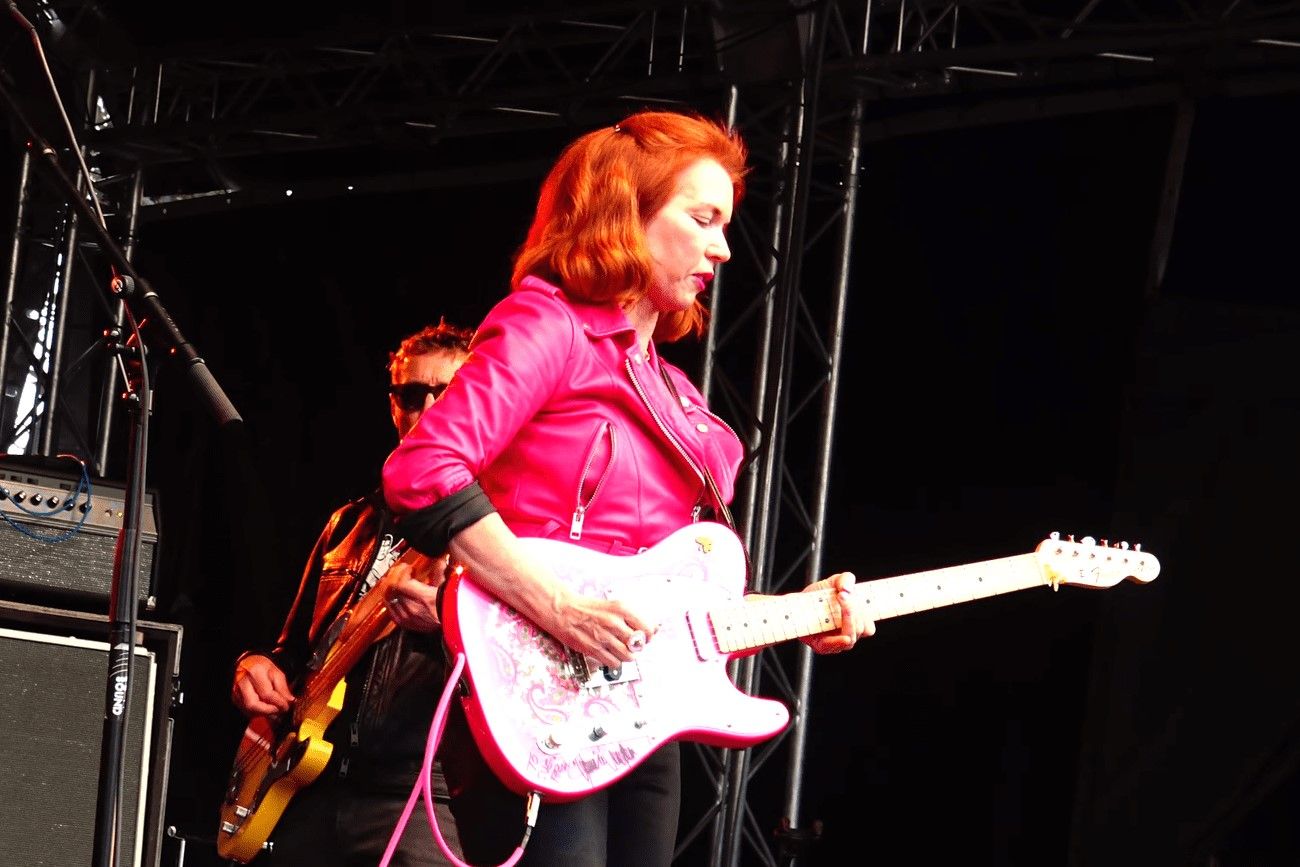 ©Sue Foley (CAN) & Band, Grolsch Bluesfestival, 03.06.2022/Anke Bartels/YouTube.com
7. Muriel Anderson – Fingerpicking Guitar Master
Muriel Anderson is from a musically inclined family. Anderson learned to play the piano and the guitar as a young child. Her grandfather played the saxophone in the John Philip Sousa Band.
She actually received the guitar as a present from a family friend when she was eight years old, and it ultimately guided her to her fate. She is a skilled fingerstyle and harp guitarist who made history by being the first female champion of the National Fingerpicking Guitar Championship.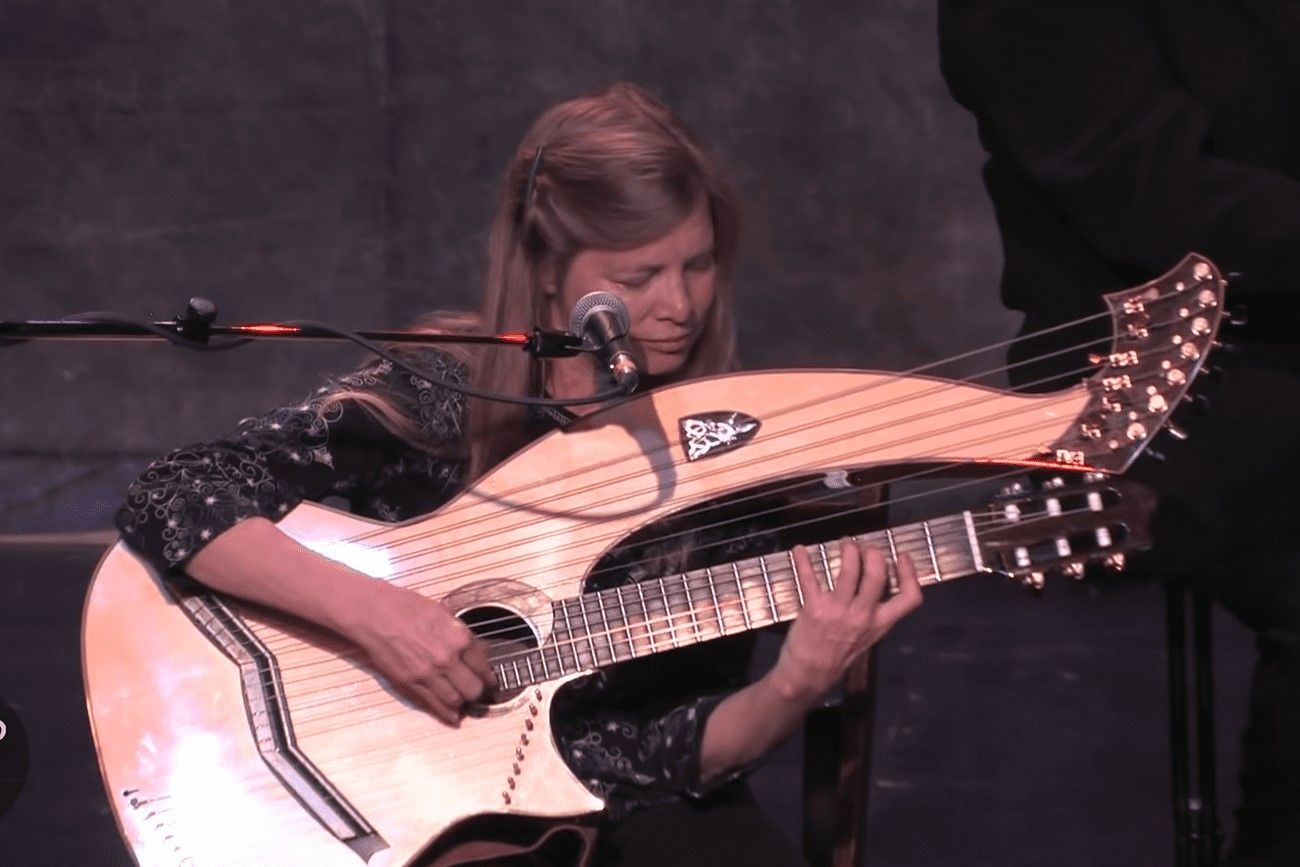 ©Muriel Anderson "Here Comes The Sun" (The Beatles) @ Eddie Owen Presents/EOP Live/YouTube.com
8. Nili Brosh – Heavy Metal Rocker
The Brosh family, who are native Israelis, appeared to be inbred with a passion for heavy metal guitar.
Nili has performed with legendary musicians like Paul Gilber, Andy Timmons, and Stu Hamm in a number of bands, including Cirque du Soleil, Guthrie Govan/The Aristrocrats, and The Iron Maidens. Her brother, Eithan, is a heavy metal guitarist in the band Burning Heat. Despite this, Brosh began studying the classical guitar at age seven and the electric guitar at age twelve.
©Nili Brosh plays Toto - Rosanna / Keys & Guitar Solos/NiliBrosh/YouTube.com
9. Badi Assad – Jazz and Worldbeat
A woman of the world, Badi Assad. Badi Assad, who was raised by Lebanese parents and was born in Brazil, is today well-known almost everywhere in the world. She started performing in 1980, and seven years later, the International Villa Lobos Festival already recognized her as the best Brazilian guitarist.
Since then, she has performed on tour in North and South America, the Middle East, and Europe. The Brazilian Embassy even extended an invitation for her to visit India.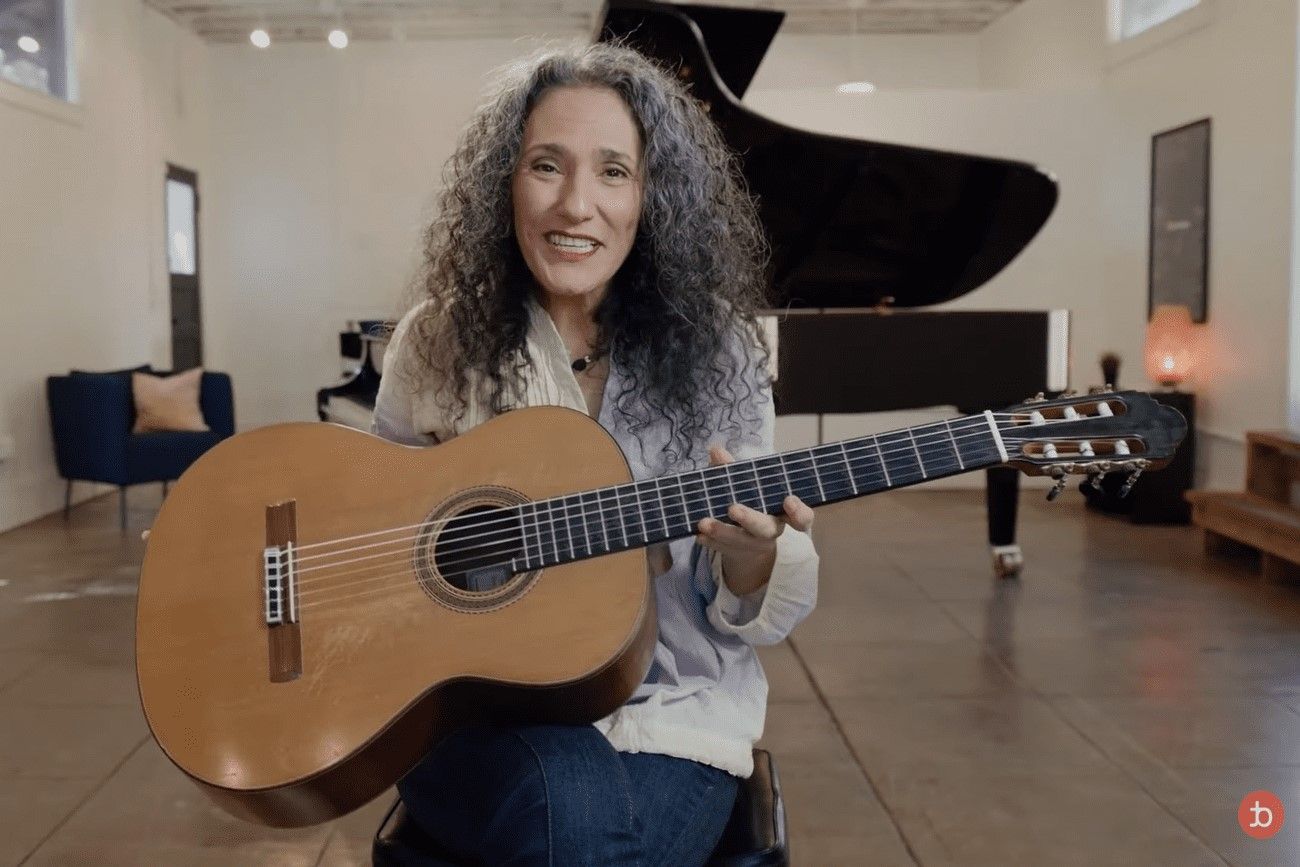 ©How does Badi Assad play guitar, percussion, harmonics, and sing at the same time?/ tonebase Guitar/YouTube.com
10. Maybelle Carter – The Carter Sisters
Even though she was born decades before rock n' roll became as popular as it is now, Maybelle Carter made the list because she is one of the most well-known country musicians and one of the best guitarists of her time. You might wonder what year that was.
Carter was born in 1909, but he didn't begin playing professionally until 1927. She was skilled not only on the guitar but also the autoharp, guitaro, and the banjo.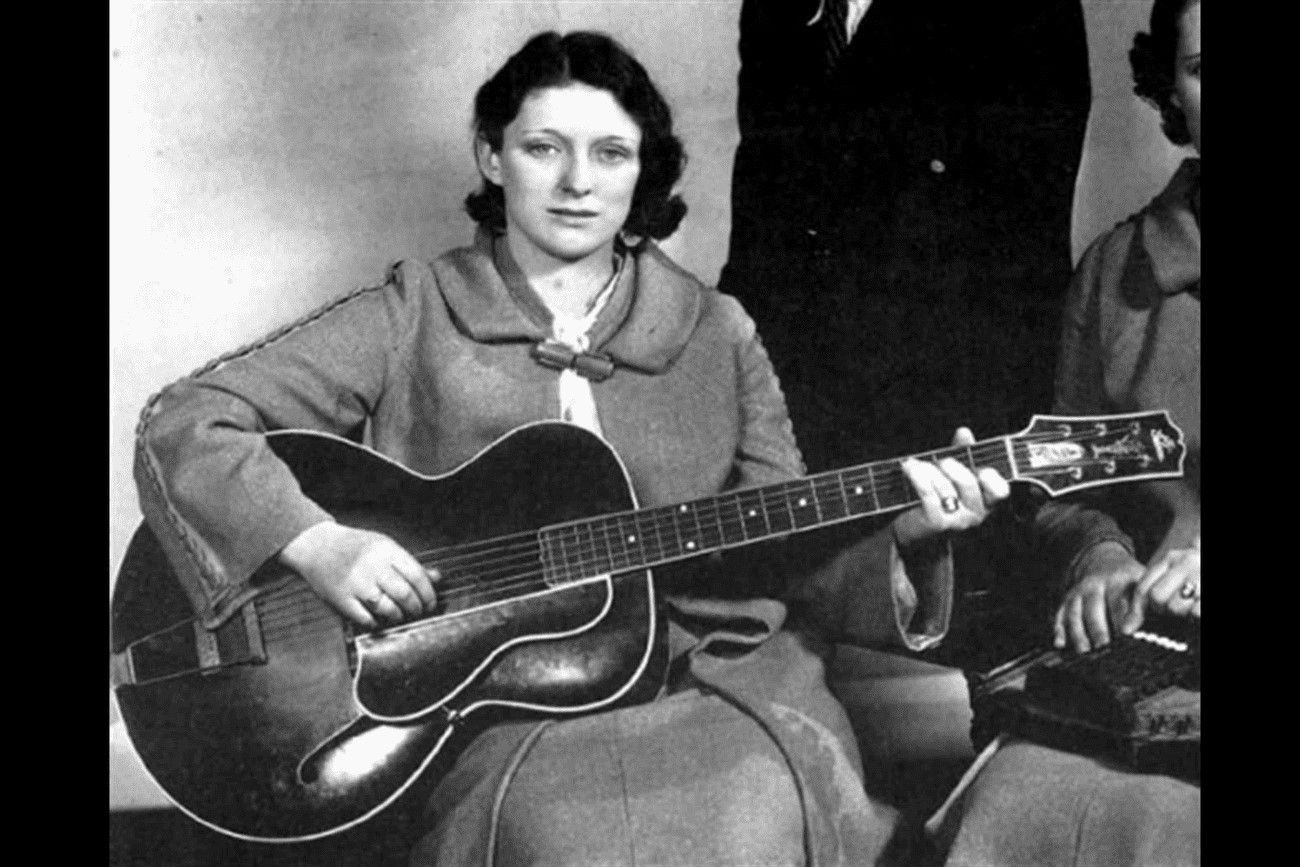 ©He's Solid Gone - Maybelle Carter/Dalai Llama/YouTube.com
11. Kaki King AKA Katherine King
The renowned publication Rolling Stone published their list of "The New Guitar Gods" in 2006. Kaki King was on the list even though she had only been performing professionally for 5 years, and she was also the only woman there.
Since learning to play the instrument, she has collaborated with her friends and bandmates Eddie Vedder and Michael Brook to create six full-length albums and two EP albums. Additionally, she was nominated for a Best Original Score Golden Globe.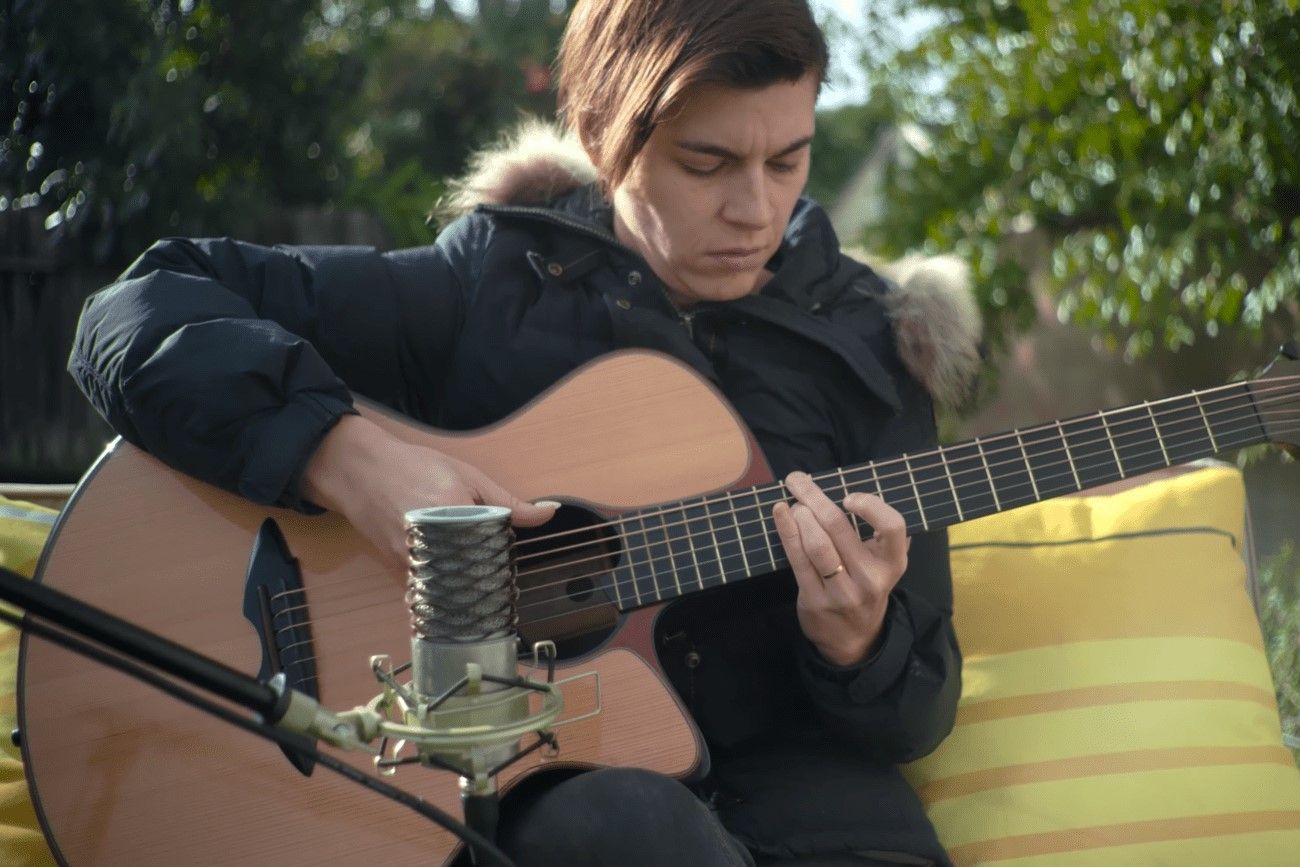 ©Kaki King - GOBI | ToneWoodAmp Sessions/ToneWoodAmp for Acoustic Guitar/YouTube.com
12. Sarah Longfield – YouTube Celebrity
With over 17 million views on her YouTube channel, Sarah Longfield is utilizing social media and streaming to attract a large audience for both herself and her original music.
She is only 28 years old, but has been playing the guitar for the past 12 years, according to her own biography on her YouTube page. She is also skilled at several other instruments, and it appears that this has helped her gain a following of 200,000 online.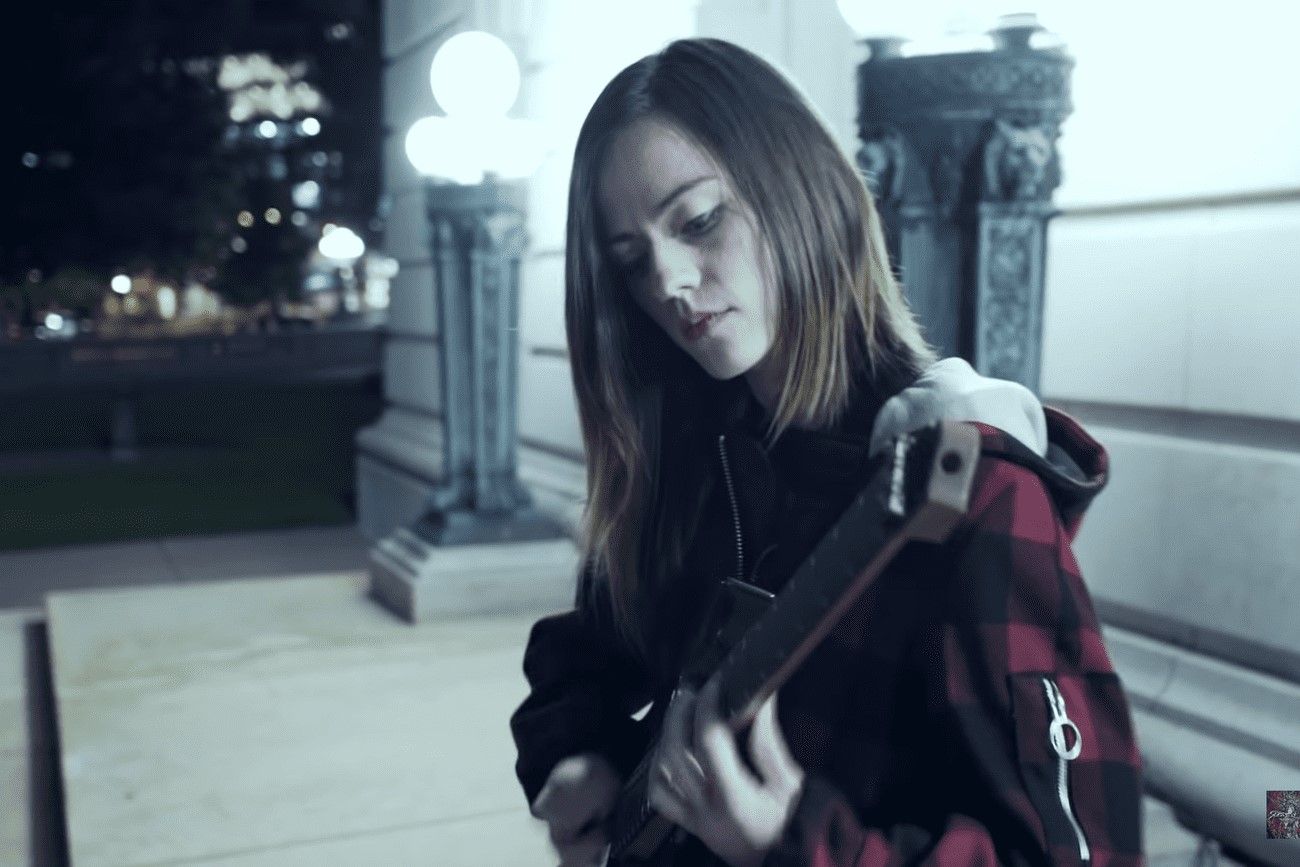 ©Sarah Longfield - Cataclysm (official play-through video)/ Season of Mist/YouTube.com
13. Nori Bucci – The Band, Gamalon
The way Nori Bucci leans over her instrument makes it clear that she is a passionate guitarist. It almost seems as though she is putting her entire being into each note that she plays.
She gained fame most notably for her work with the band Gamalon, when she replaced Tony Scozzaro as lead guitarist. Gamalon has been performing since the middle of the 1980s and most recently appeared in 2012 reunion performances.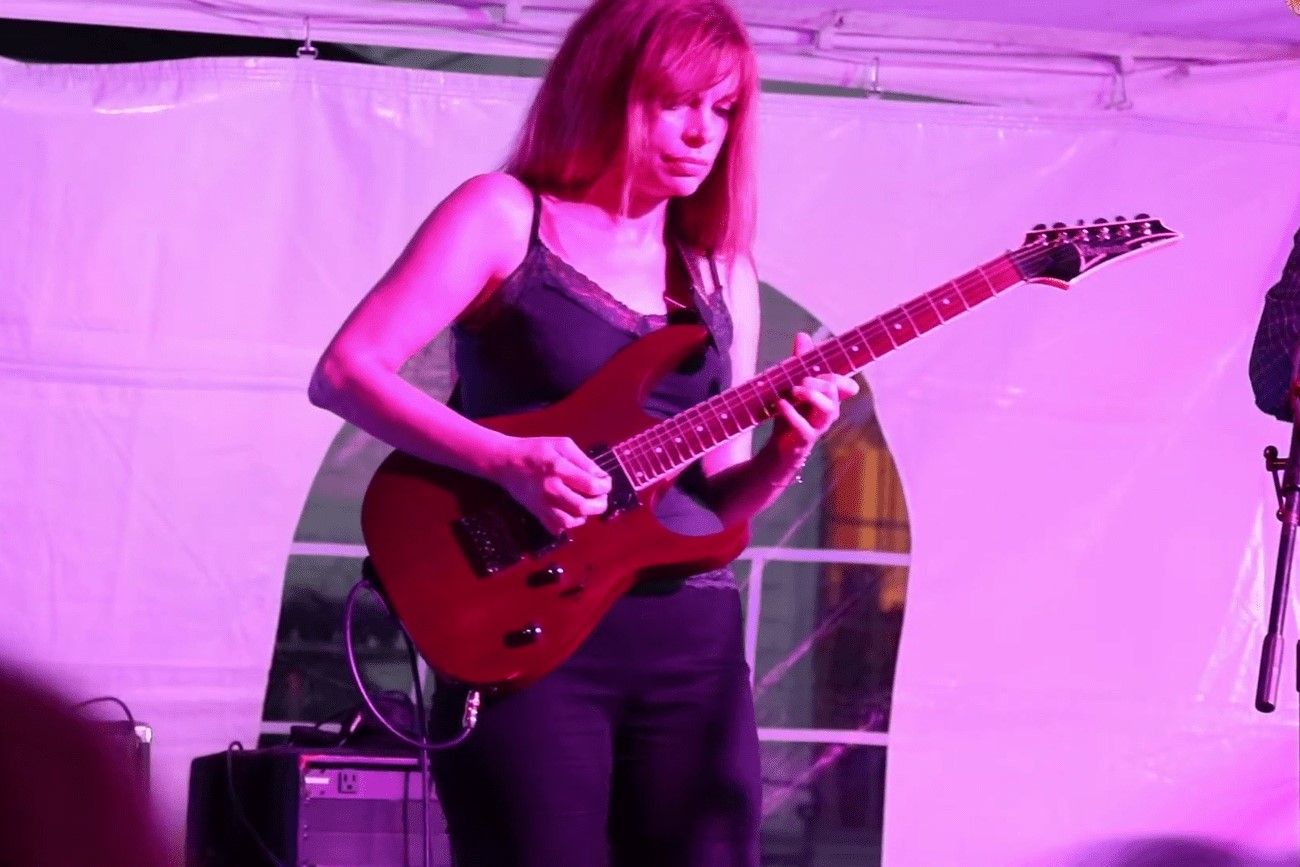 © Nori Bucci - "Rebirth" Original Composition 7-1-17 Novellifest/iused2BAfireman/YouTube.com
14. Charo – The Queen of Flamenco
Maria Rosario Pilar Martinez Molina Baeza, a Spanish actress and guitarist best known by her stage name Charo, is referred to in the title as the "Queen of Flamenco." Her first publicly available songs were really disco singles from the 1970s disco movement.
By 1994, Charo had already received the same honor from both Billboard and the Billboard International Latin Music Conference for Female Pop Album of the Year.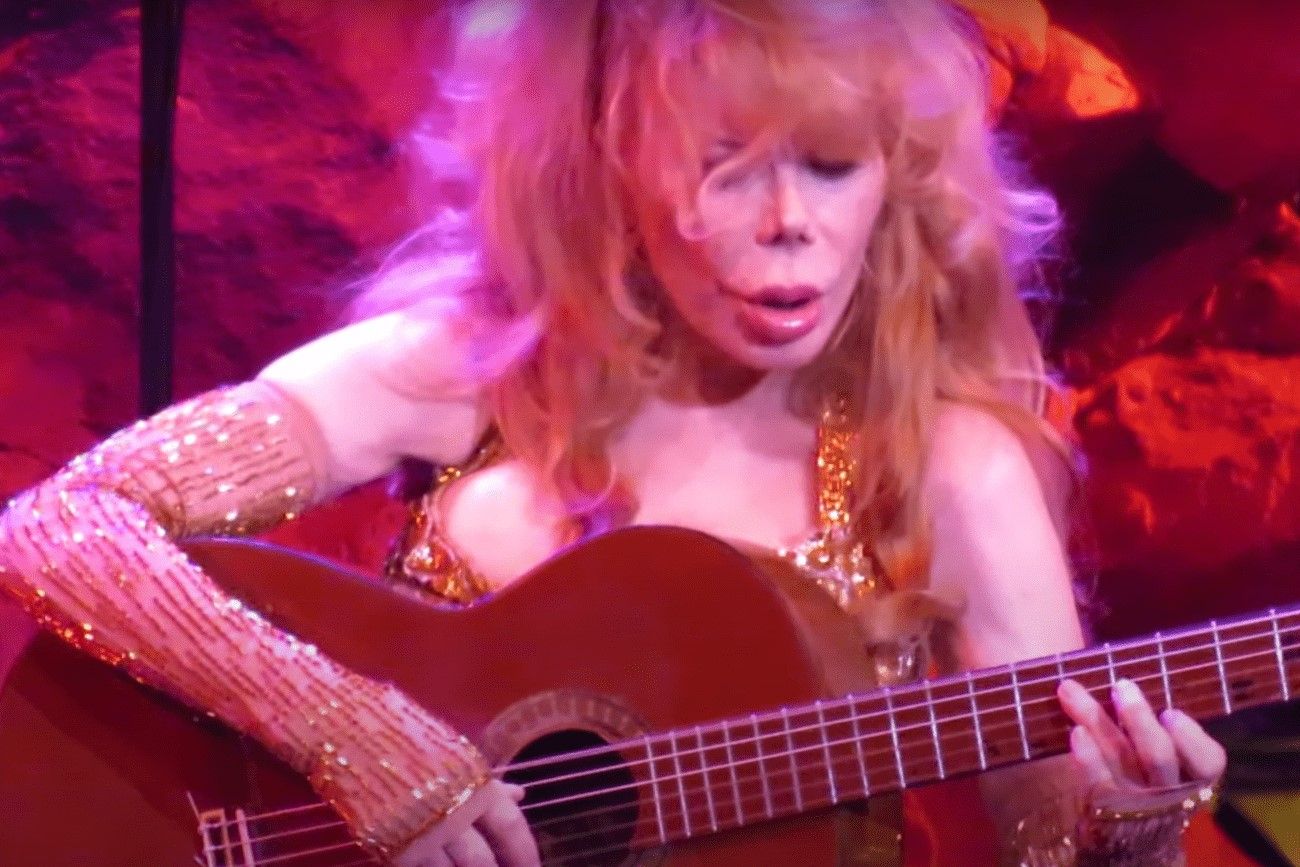 ©Charo - Malagueña - 3/5/22 - Mohegan Sun - Wolf Den - Uncasville, CT/Henry LaPierre/YouTube.com
15. Laura Chavez – Also Called Triviana
Despite being barely 5 feet 3 inches tall, guitarist Laura Chavez has outperformed many other musicians due to her unmatched talent and dedication to her craft. Chavez made the decision to follow in the footsteps of guitar greats like Jimi Hendrix and Led Zeppelin and spread their love for the instrument after witnessing them blast their way through songs.
Since then, she has adapted a Hendrix-like, intense guitar playing style, saying she loves playing a guitar especially when it fights back.
16. Felicia Collins – Late Night Orchestra
Felicia Michele Collins was a member of the CBS Orchestra, which introduced and closed each night's episode of the Late Show with David Letterman, yet you may not have noticed her while watching.
Collins originally relocated to New York with her family from Jackson, Tennessee, a region recognized for producing some of the best guitarists in the country, even if New York has since become her home. Collins has performed alongside several famous people since the show's finale.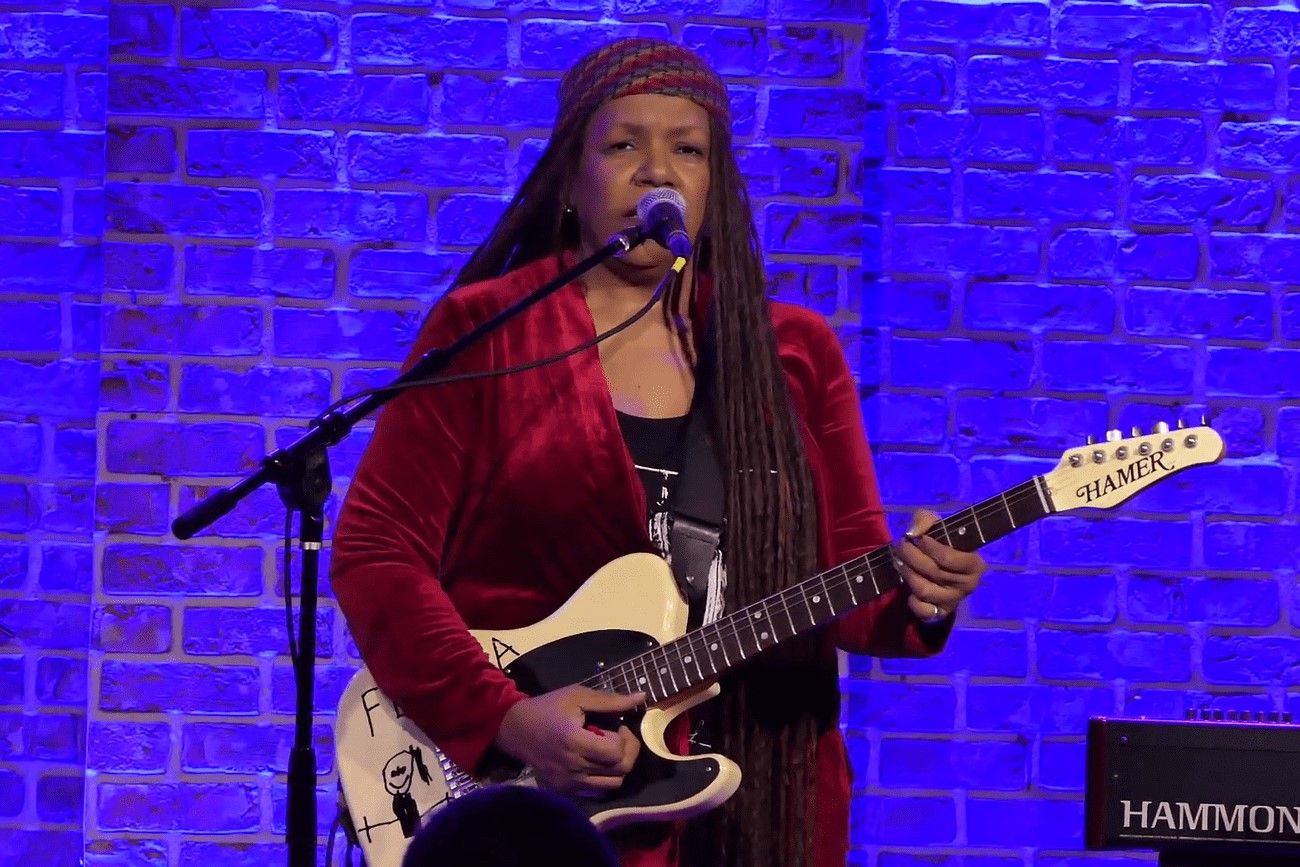 ©Felicia Collins & Kirk Fletcher - Mr Right Now - 10/3/19 The Iridium - New York City/1AnitrasDance/YouTube.com
17. Deborah Coleman – Best Guitarist
Deborah Coleman, an American blues musician, grew up in a musically inclined family. She is not only a skilled and award-winning blues musician herself, but her family is also full of other accomplished musicians.
Her two brothers and sister all play guitar, and her father also plays the piano. Her sister also plays the keyboard. Coleman has won various accolades since the release of her record in 1997, including the Orville Gibson Award for Best Female Blue Guitarist.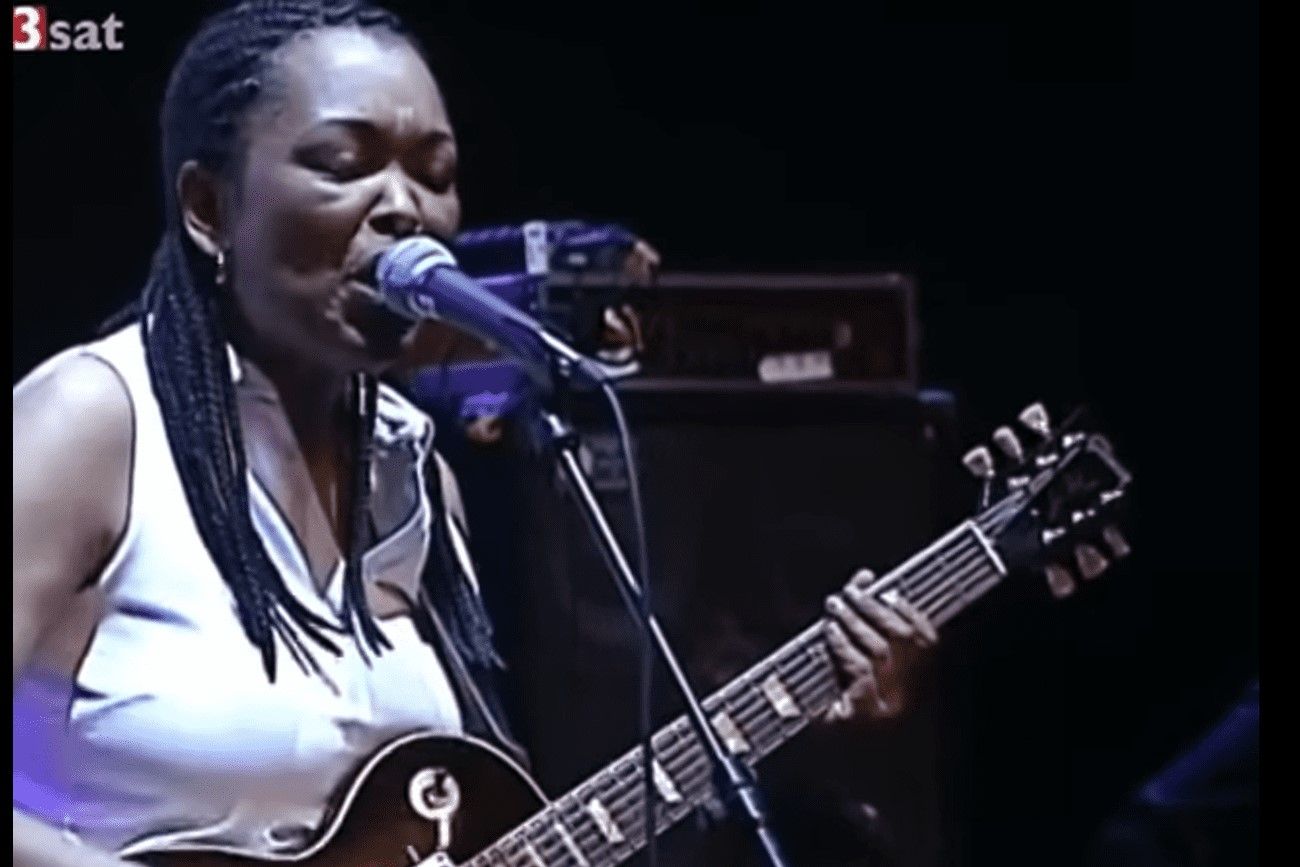 ©Deborah Coleman Don't Lie To Me/Ferenc Csapó/YouTube.com
18. Malina Moye – Electric Guitar Powerhouse
Malina Moye, a left-handed guitarist and singer-songwriter who is currently 39 years old, is a model, actor, singer, and composer. We can't say we're surprised that Moye's renown has only increased since he established WCE Records in 2004, but it has.
Her third studio album, Bad as I Wanna Be, not only spent two weeks in a row at the top of the Billboard Blues chart, but Parade described her as "an über skilled, electric guitar juggernaut."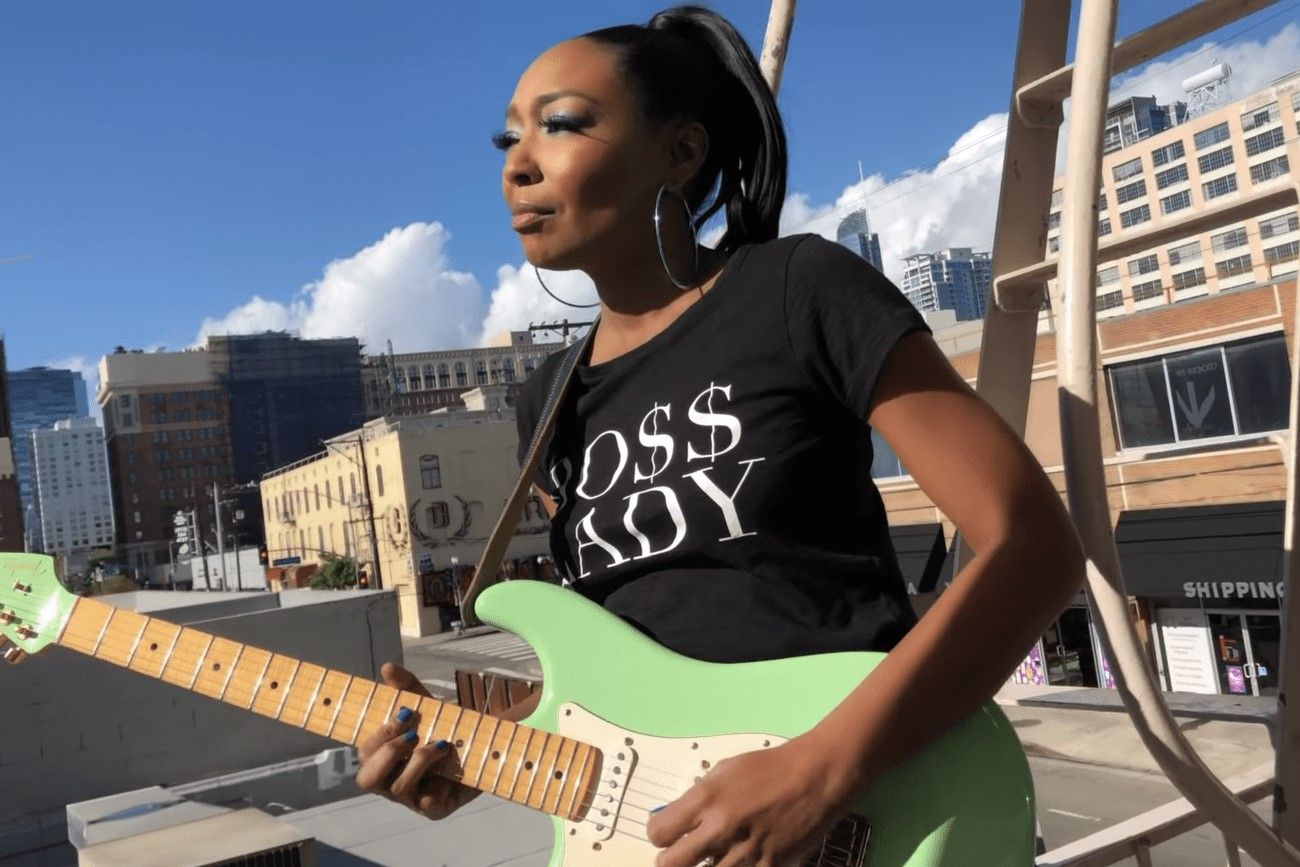 ©Malina Moye Official Music Video "Enough"/MalinaMoye/ YouTube.com
19. Marnie Stern – Tapping Style
Marnie Stern is a guitarist, singer, and musician from the United States who became well-known for her technical proficiency and tapping guitar playing. During her 2007 tour, she became so well-known that in the spring 2008 issue of Venus Zine, she was ranked as one of the "Greatest Female Guitarists of All Time." In addition to her solo performances, Stern appears on Late Night With Seth Meyers with The 8G Band.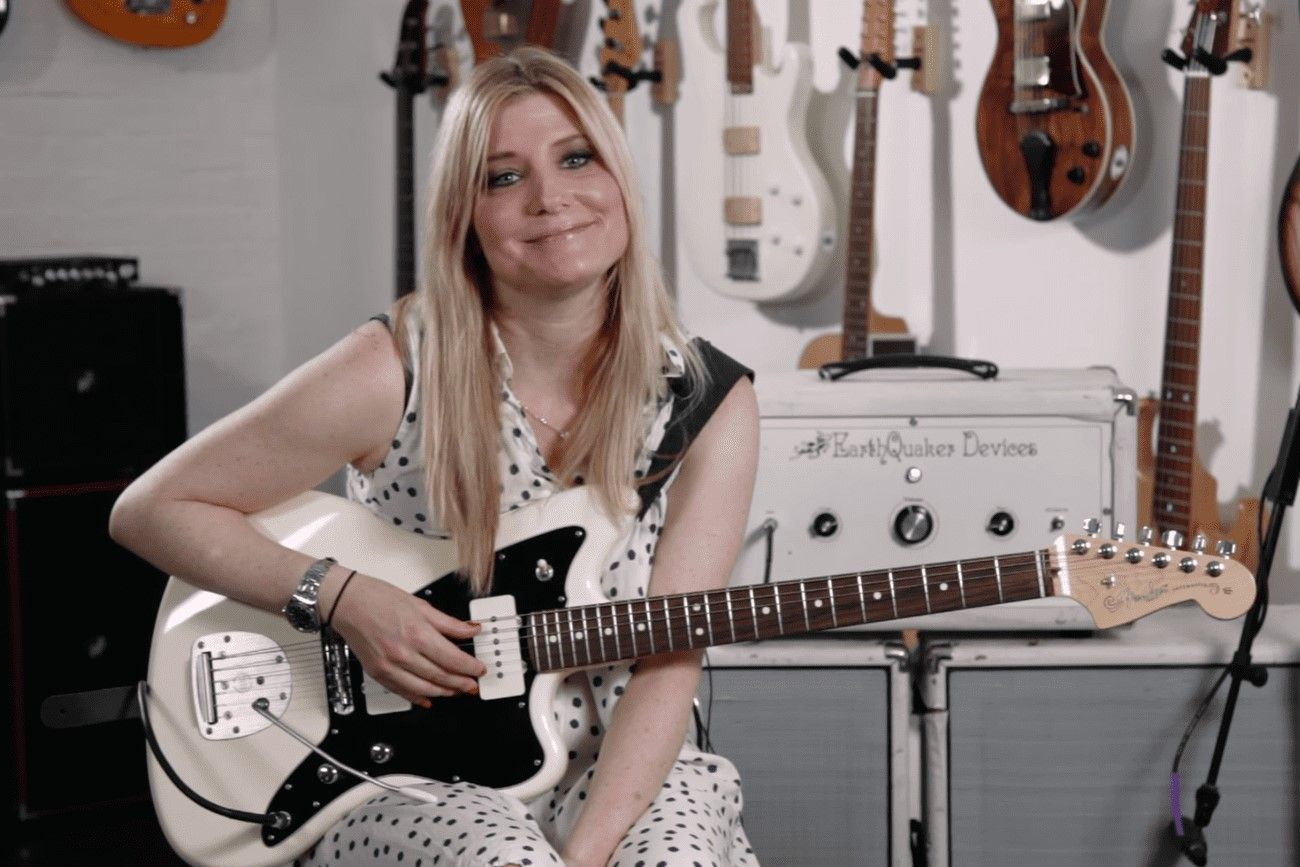 ©Aqueduct Vibrato First Impression - Marnie Stern/EarthQuakerDevices/YouTube.com
20. Ruyter Suys – Played From a Young Age
Lara Ruyter, born Ruyter Suys' guitarist, Johanna Pakon Suys, was up in a musical family in Vancouver. When she was three years old, she started playing the piano. Around eight or nine years old, she started playing the guitar.
Led Zeppelin, David Bowie, and even Simon & Garfunkel were influences for Suys. Suys enjoyed listening to bands like Motörhead, Metallica, KISS, Aerosmith, Ted Nugent, and others throughout her adolescence. Nancy Wilson of Heart and Wendy O. Williams are two of her key feminine influences.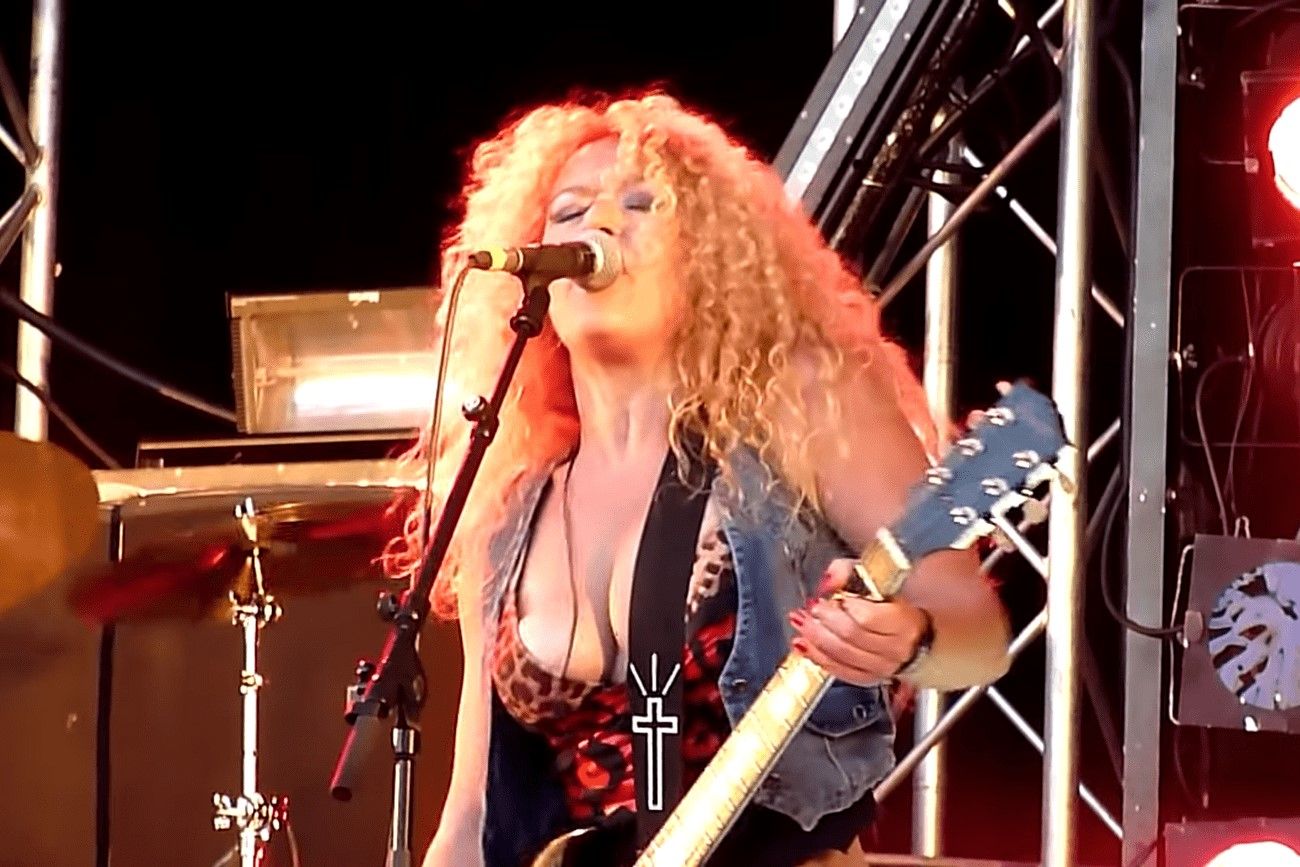 ©NASHVILLE PUSSY - Ruyter suys/Slayersultan/YouTube.com
21. Joanna Connor – Chicago Blues
Joanna Connor is a blues singer-songwriter and virtuoso guitarist who was born in New York and raised in Massachusetts. She has been creating waves in the music industry since the 1980s.
Connor was instantly captivated to Chicago's blues culture after moving there in 1984, and she went on to perform onstage alongside artists like James Cotton, Junior Wells, Buddy Guy, and A.C. Reed. It took Connor very little time to form her own band and record her debut album for Blind Pig Records. Connor is still composing music at the age of 61.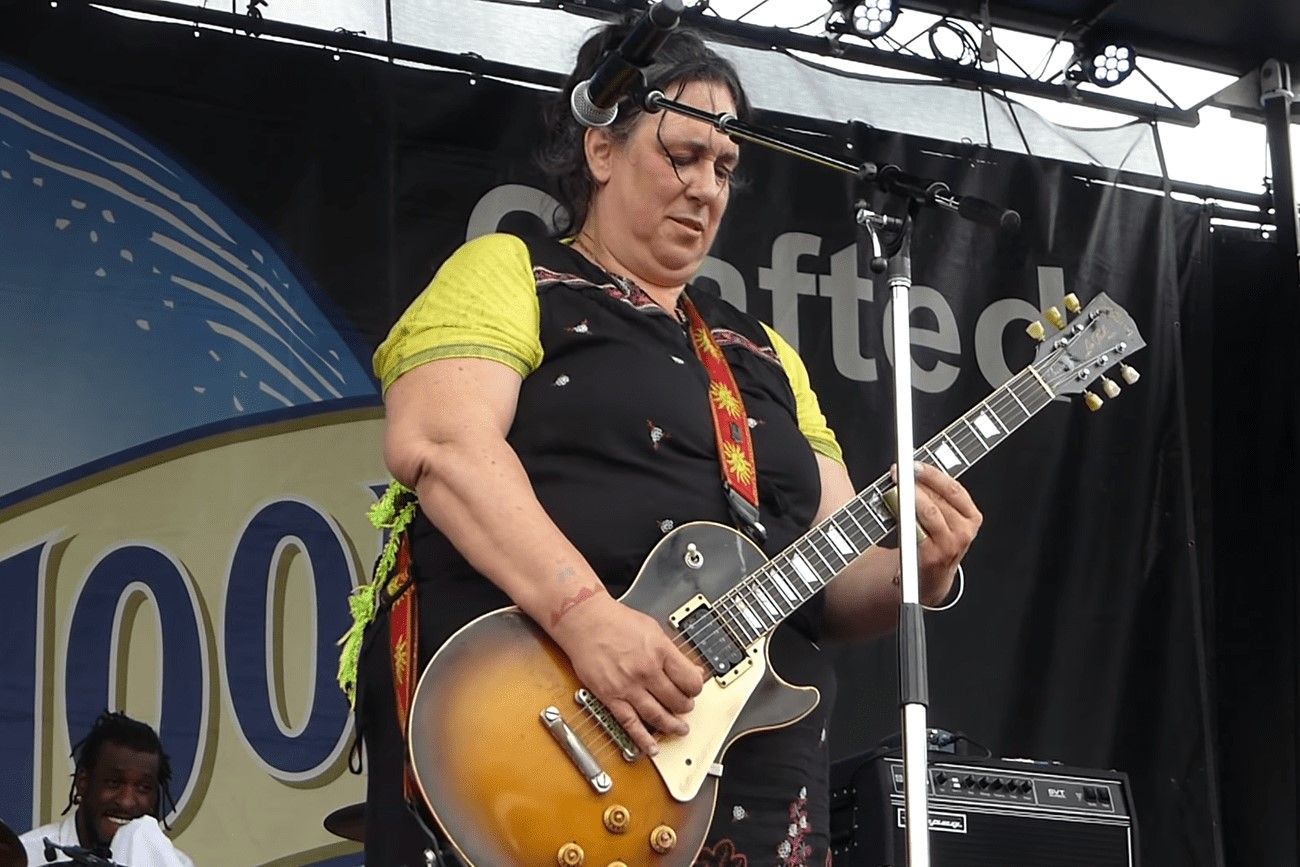 ©Joanna Connor - Walkin' Blues - 6/2/18 Western MD Blues Festival - Hagerstown, MD/1AnitrasDance/YouTube.com
22. Arianna Powell – Jazz Guitar
Arianna Powell, a Pennsylvania native, first gained notoriety in 2017 when Guitar Player magazine named her one of the "50 Sensational Female Guitarists." It's not surprising that Powell has able to share the stage with some of the biggest names in the music industry, like Chris Brown, the Black Eyed Peas, and even will, given that he has a B.S. in Music Education with a specialty in jazz guitar. i.am. Additionally, she sang on American Idol and went on tour with Drake Bell (yep, the Drake Bell from Drake & Josh).
23. Yvette Young – Creative Genius
Yvette Young, a native of California, started her career in 2009 after receiving a Bachelor of Fine Arts from the University of California. She started out by sharing videos of herself performing music. Young is the lead singer of the rock group Covet. Young is a gifted guitarist, but she also does original illustrations and artwork, including some of her own guitars! Additionally, her artwork served as the inspiration for the Technicolor album cover for her band, which was released in June 2020. So it's safe to conclude that Young is a genuine creative genius.
©Yvette Young - Ares (guitar playthrough)/ yvette young/YouTube.com
24. Liona Boyd – The First Lady
Boyd, who was born in 1949 in London, England, entered adolescence at a period when the counterculture revolution was at its height and engulfing much of the globe. She has performed in upscale establishments and underground clubs in the UK, British Columbia, Yukon, Paris, and even at Carnegie Hall in New York City. Liona is at the top of our list for the quite straightforward reason that she is frequently referred to be the "First Lady of the Guitar."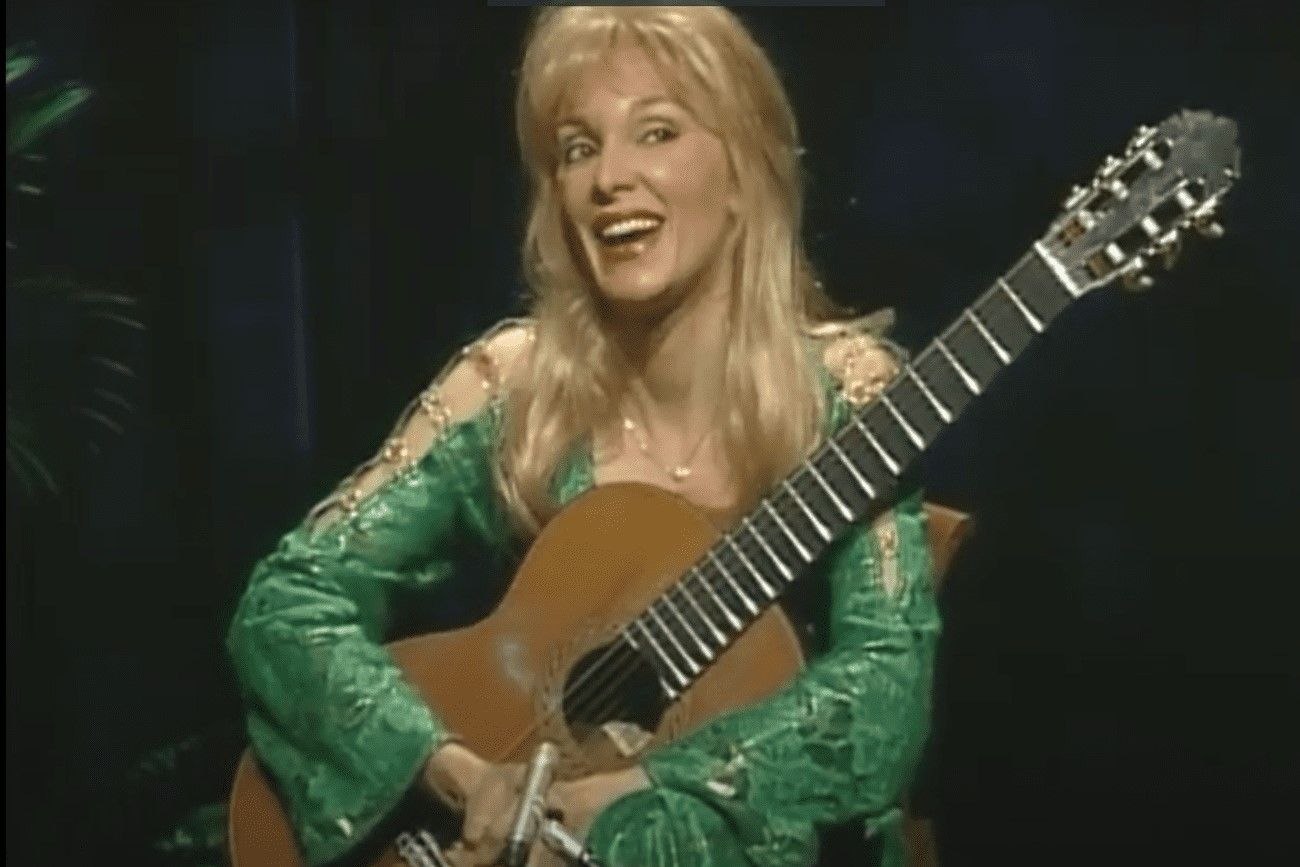 ©Malaguena HQ Filmed in Toronto ©1999 Moston Productions./ Liona Boyd/YouTube.com
25. Jennifer Batten – She Knew the Stars
With a career that began in 1980 and guitar skills that have been developed since she was just 8 years old, this New York native has been rocking out for the past 40 years. Since she first entered the stage, Jennifer has given both solo and group performances. She played guitar on all three of Michael Jackson's global tours between 1987 and 1997, and Stevie Wonder produced her CD.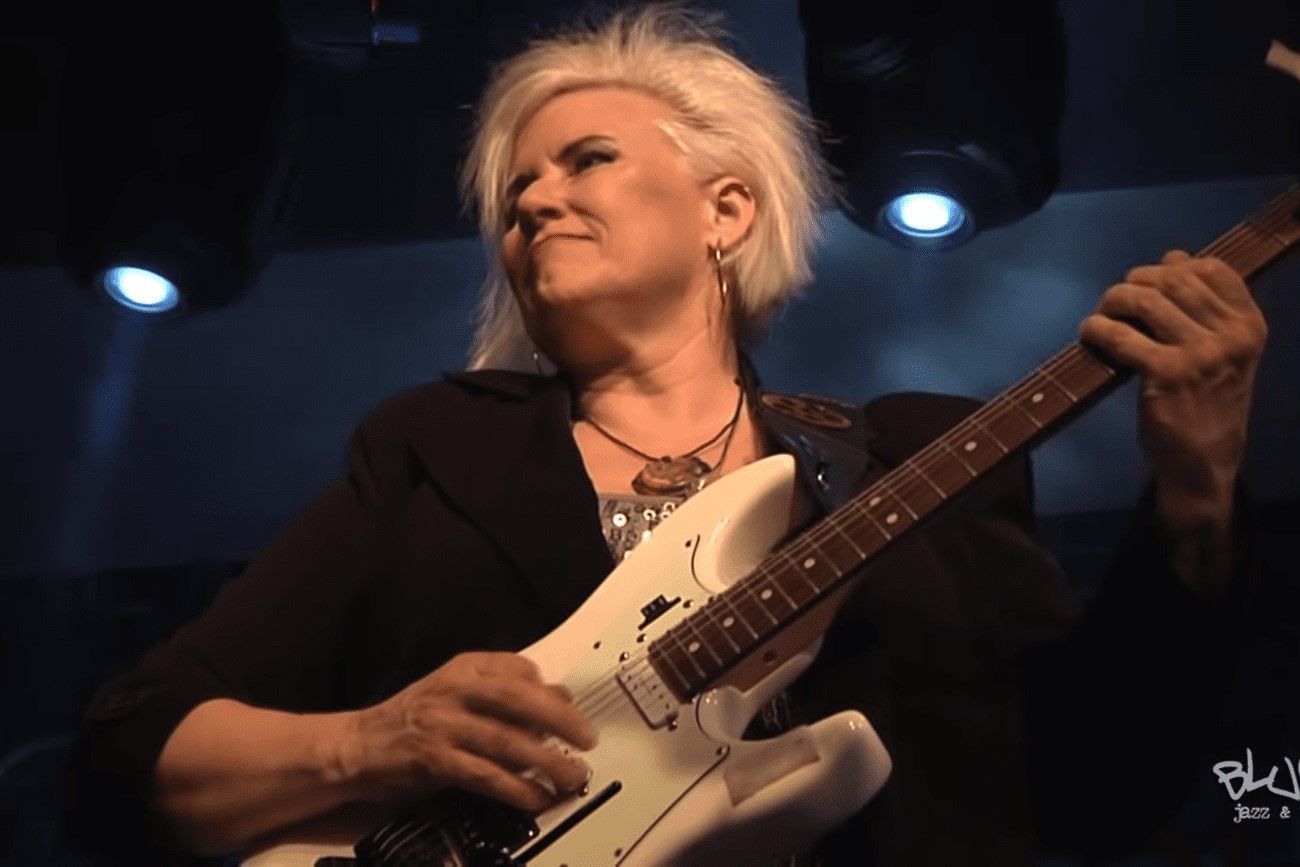 ©Jennifer Batten: Live in Blue Note/BlueNote sk/YouTube.com
26. Orianthi – Sudden Rise to Fame
Orianthi, whose real name is Orianthi Penny Panagaris, is an Australian musician who hails from Adelaide and is regarded as one of the greatest female guitarists of all time. Her big break came in 2009 when she agreed to play lead guitar for Carrie Underwood at the 51st Grammy Awards. Orianthi was reportedly so enamored with Underwood that she accepted her invitation to join the band. She also published her debut album in the same year.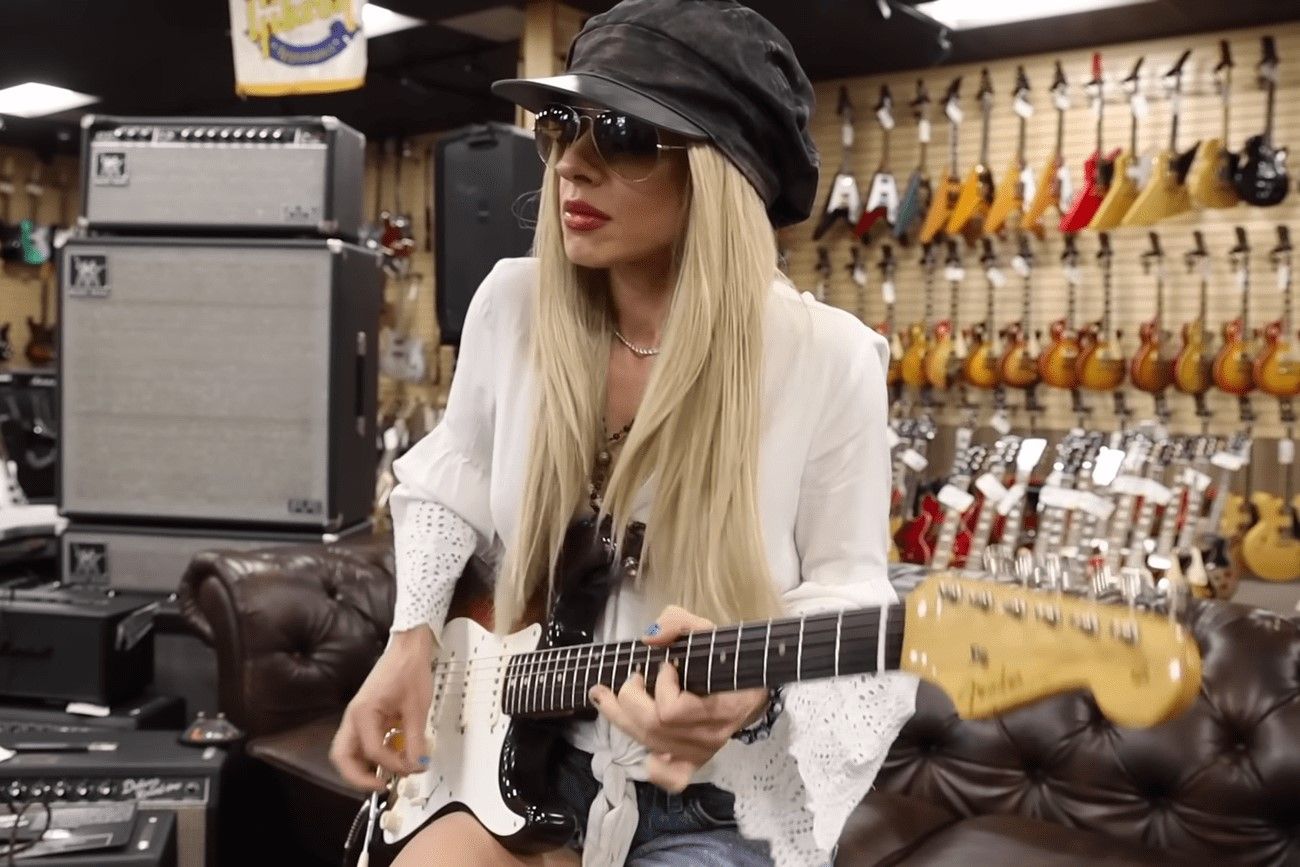 ©Guitar of the Day: 1959 Fender Stratocaster with Orianthi/Normans Rare Guitars/YouTube.com
27. Courtney Cox – The Iron Maiden
Courtney Cox began attending the Paul Green School of Rock Music when she was 15 years old, and her future appeared to be set. She began sharing the stage with well-known performers as a youngster, including Jon Anderson and Adrian Belew.
She even joined Queen Diamond, an all-female tribute band that performed music by the well-known band King Diamond. However, her genuine rise to fame began in 2008 when she accepted an invitation to open for The Iron Maidens, where she continues to rock today.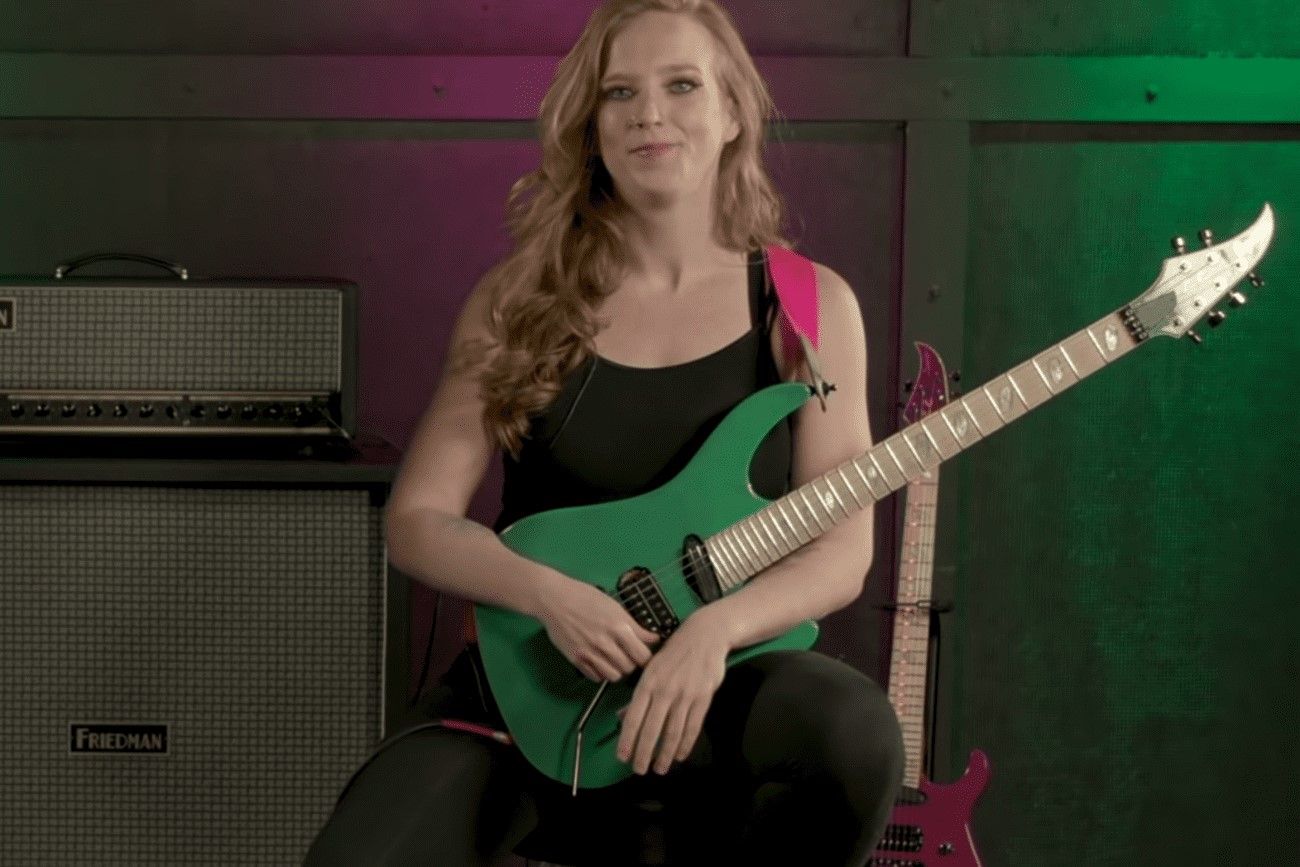 ©Courtney Cox — 5 Favorite Guitar Riffs/Sweetwater/YouTube.com
28. Joyce Cooling – Taught Herself to Play
Joyce Cooling, a jazz guitarist, vocalist, and songwriter, was raised in a musical household, similar to several of the other individuals on this list. In fact, Cooling was so naturally gifted with the arts that she trained herself to play the guitar by ear and combined her love of melody and harmony with the West African music's polyrhythms.
Cooling, who is now 54 years old, has collaborated with Joe Henderson, Stan Getz, Mark Murphy, Al Jarreau, and Charlie Byrd on six studio albums.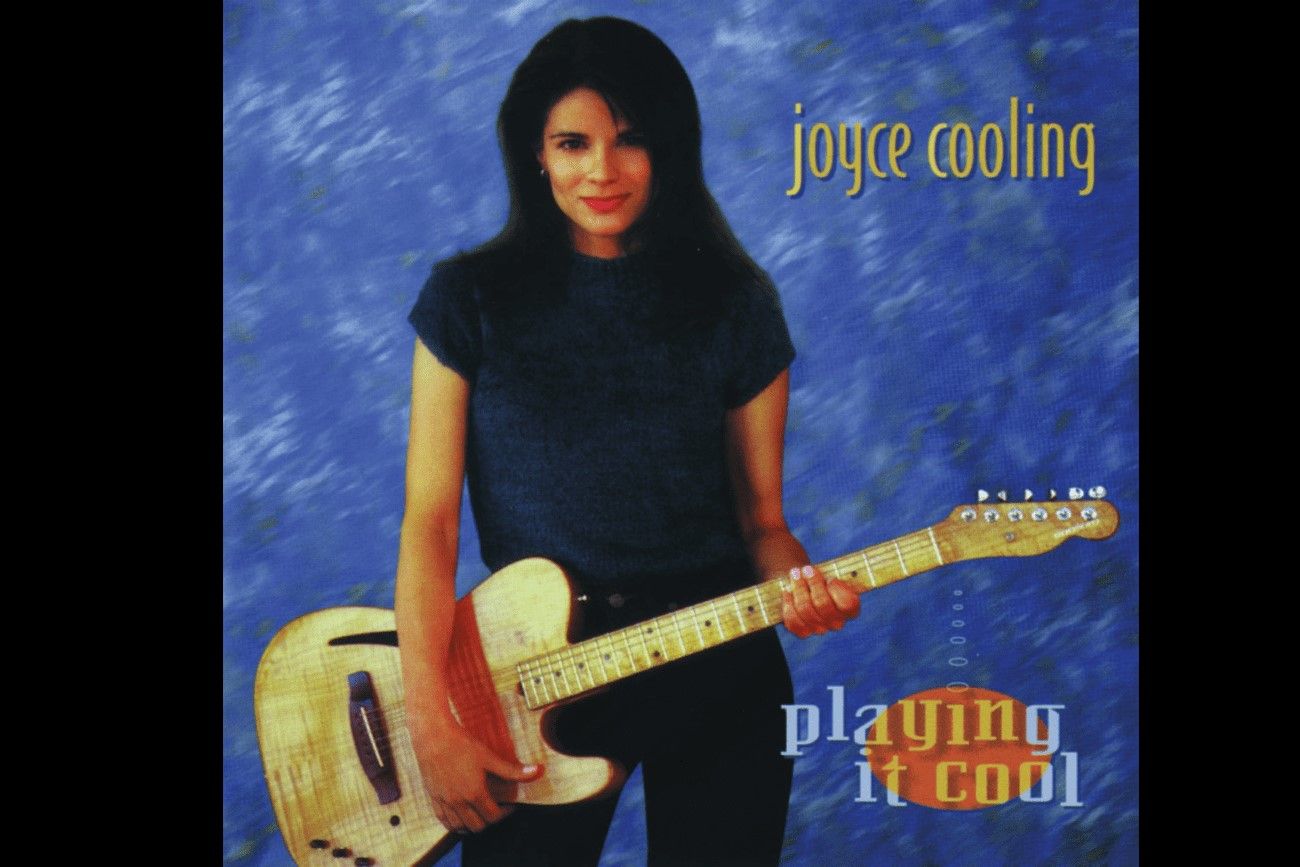 ©Savannah/Joyce Cooling/YouTube.com
29. The Great Kat – One of the Fastest Shredders of All Time
Born Katherine Thomas, The Great Kat is an English musician well known for her thrash metal adaptations of well-known parts of classical music. While most of the songs show Kat utilizing the electric guitar, there have been several in which she utilizes a violin — which isn't much of a surprise considering that she is a classically educated violinist, graduating from the Juilliard School of Music.
Currently 57 years old, Kat has made quite a name for herself over the years, even earning a spot on Guitar One magazine's list of the "Fastest Shredders of All Time."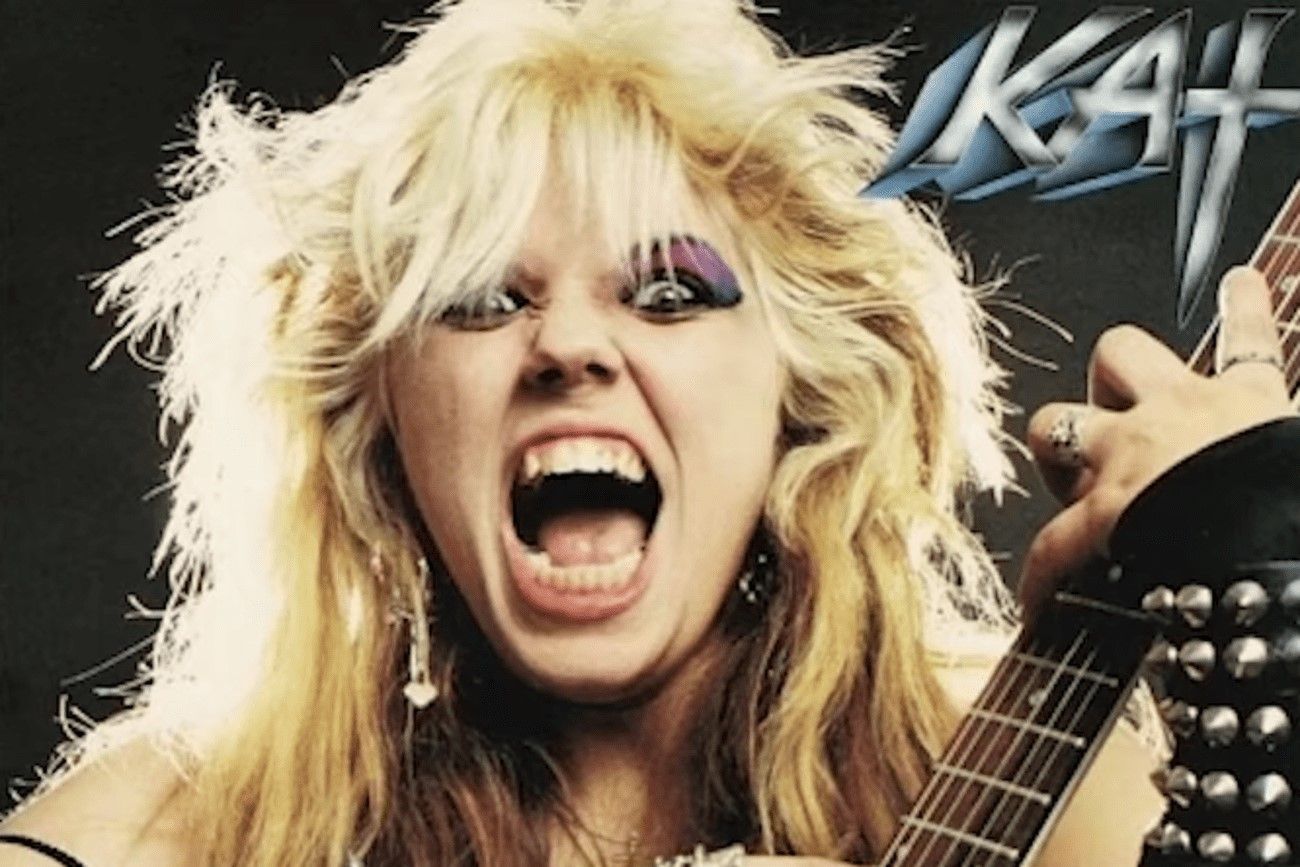 ©THE GREAT KAT | Then and Now/Mercyful Metal/YouTube.com
30. Susan Tedeschi – Multiple Grammy Award Nominee
Susan Tedeschi, a native of Massachusetts, is a vocalist, a guitarist, and a multiple Grammy Award nominee. Tedeschi had her public debut as an understudy in a Broadway musical when she was six years old, even though she didn't fully break into the music business until 1995.
Tedeschi immersed herself in the Boston music scene and started sitting in on blues jams after earning a Bachelor of Music in musical creation and performing. Tedeschi, who is now 53, is a part of the Tedeschi Trucks Band, which consists of several other musicians as well as her band and her husband Derek Trucks' band, the Derek Trucks Band.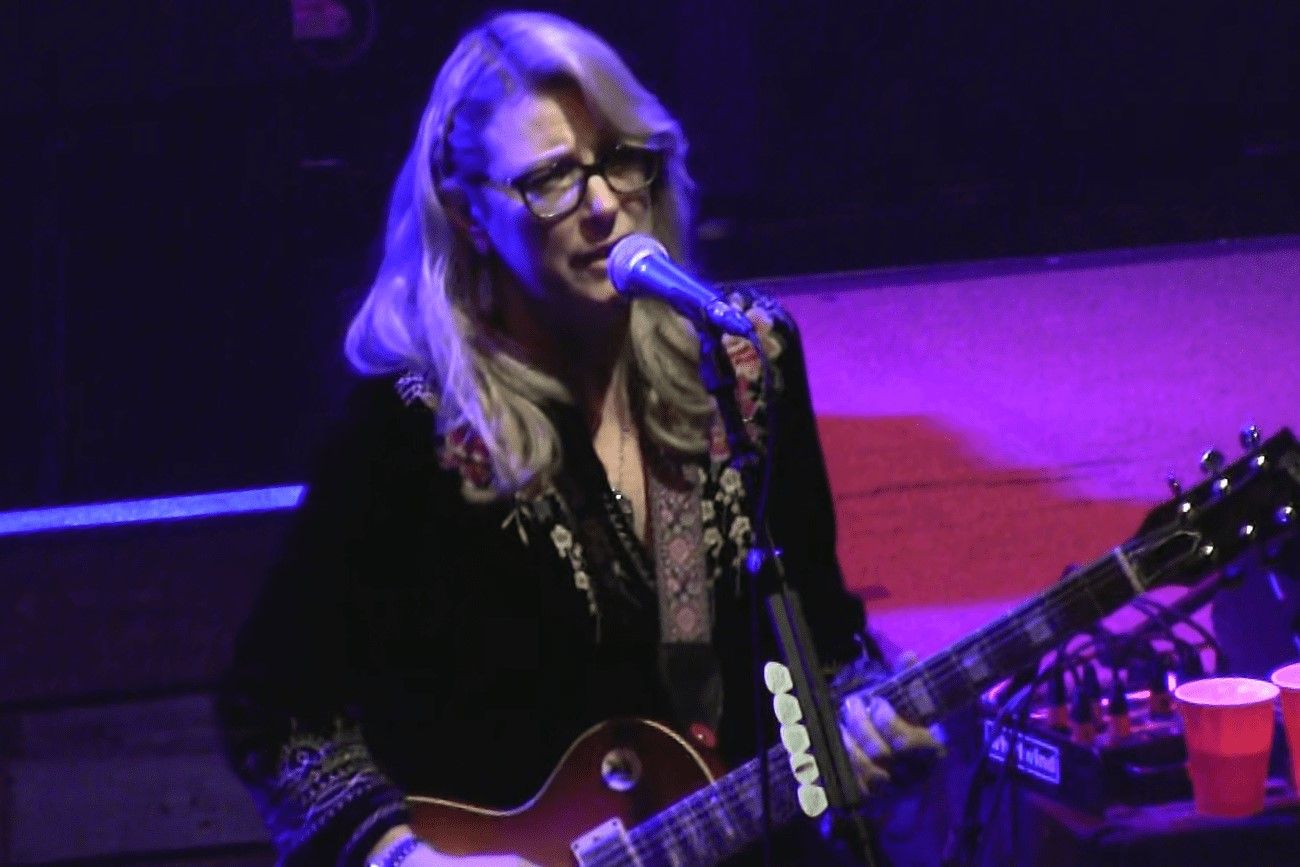 ©smokin' Susan solo! "The Sky Is Crying" Tedeschi Trucks Band 12/1/17/Less Than Face Productions/YouTube.com
31. Xuefei Chang – One of the World's Finest
At just 10 years old, Xuefei Yang, who is regarded as one of the best classical guitarists in the world, made her debut in front of the audience and was so well received that the Spanish Ambassador to China gave her a performance guitar.
She was the first guitarist in China to enroll in a music school and the first Chinese guitarist to gain international acclaim on the international stage. Yang has recorded numerous studio albums and had enormous international success throughout the years.
©XUEFEI YANG - Live Classical Guitar Concert | Siccas Guitars x @antwerpengitaarfestival9788/SiccasGuitars/YouTube.com
32. Carmen Vandenberg – Bones UK
The Grammy-nominated rock band Bones UK's lead guitarist, Carmen Vandenberg, is a native of London. She and the vocalist of the band, Rosie Bones, connected at a blues restaurant in their hometown and played in the all-girl group Fake Club from 2012 to 2014.
Soon after they started Bones UK, artist Jeff Beck noticed them and requested them to co-write his 2016 album so they could accompany him on tour. Carmen has resided in Los Angeles, California, ever since.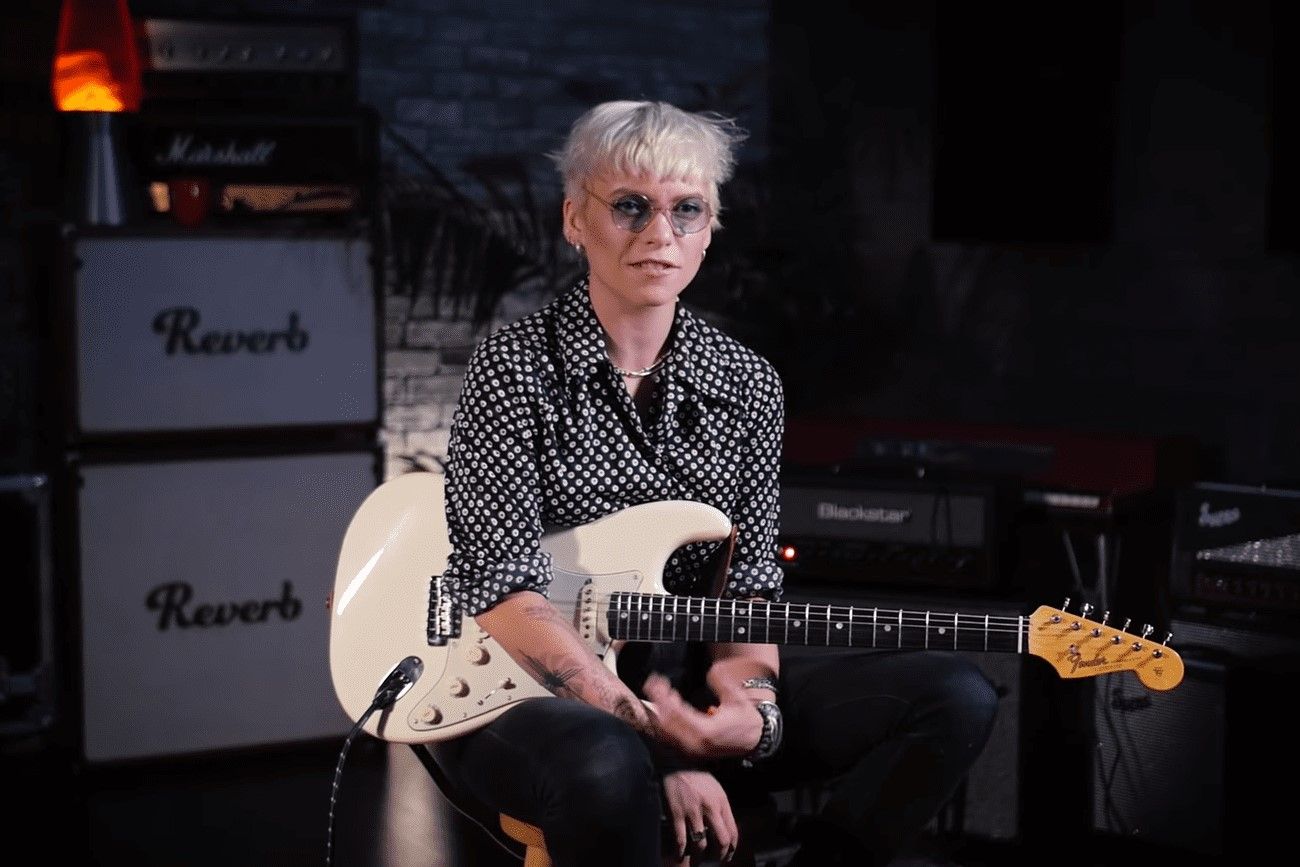 ©Carmen Vandenberg on Playing with Jeff Beck, Strats vs Teles, & Effects | Reverb Interview/Reverb/YouTube.com
33. Nita Strauss – Alice Cooper's Touring Guitarist
Nita Strauss, an American rock guitarist born in 1986, started her career as a young adult after quitting high school in her junior year to focus only on music.
She not only has a flourishing solo career but also serves as Alice Cooper's current touring guitarist. Strauss is frequently seen on the covers of international print publications, and she is named first on Guitar World's list of "10 Female Guitar Players You Should Know."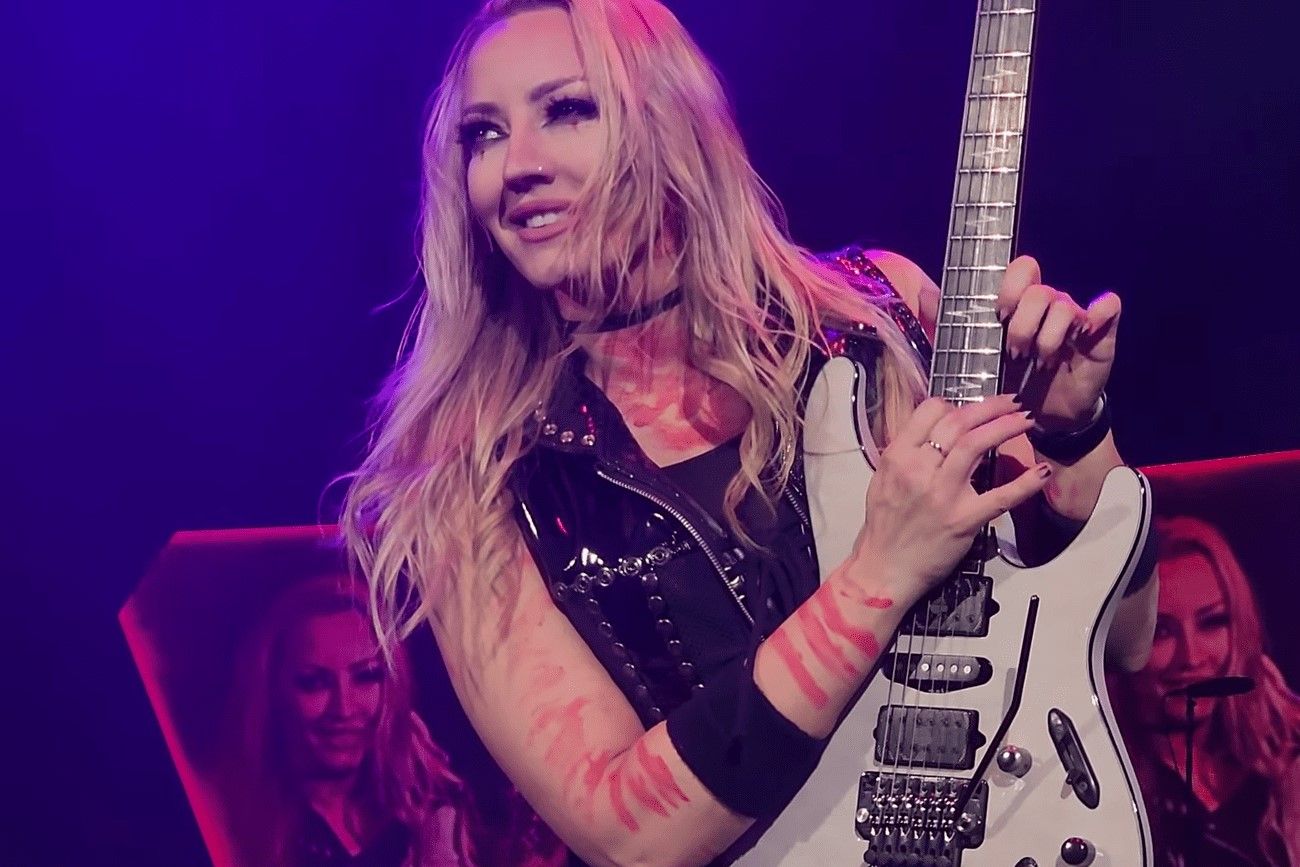 ©nita strauss- guitar solo- 5/2/23- fort wayne indiana/chris winzloff/YouTube.com
34. Peggy Jones – Queen Mother of Guitar
Peggy Jones was a prominent American musician who was born in Harlem, New York City, and rose to fame in the 1950s and 1960s. Jones studied ballet, tap, and opera while she was a student at the High School of Performing Arts.
With other words, Jones was exposed to music at a very young age and found herself utterly engrossed in it. Jones, who performed on stage as Lady Bo and was frequently referred to as the Queen Mother of Guitar, played rhythm guitar in Bo Diddley's band. With a career like hers, it should come as no surprise that Jones is revered as a rock and roll pioneer.
35. Ani DiFranco – Has 20 Albums
Ani DiFranco, real name Angela Maria DiFranco, started her professional career in the early 1990s and has been extremely active ever since. She has created more than 20 albums, the most of which fall into the folk-rock and alternative rock categories, while several of them also incorporate elements of punk, funk, hip-hop, and jazz.
Ani DiFranco has been able to experience a level of creative freedom that many guitarists and musicians only dream of since starting her own record label, Righteous Babe.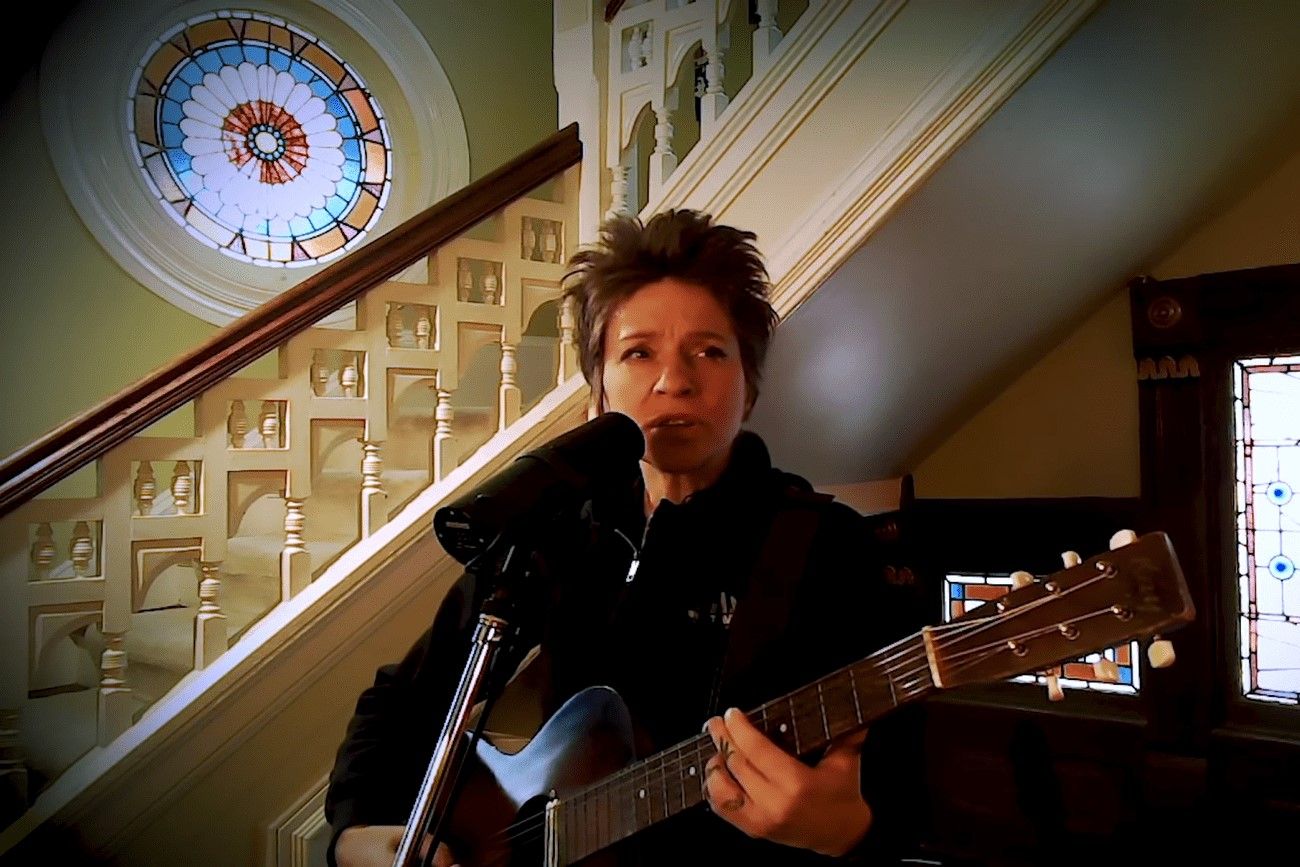 ©Ani DiFranco: Tiny Desk (Home) Concert/NPR Music /YouTube.com
36. Elizabeth Cotton – Left Hand Guitarist
Elizabeth, who was raised in a musical household close to Chapel Hill, North Carolina, says that after she discovered her brother's guitar, "nobody had no peace in that house from that day on." She was compelled to leave school by the age of 9 in order to work to support her family financially. Despite this, she managed to save enough money to purchase a guitar for herself. In 1989, she had amassed wealth and had taken home her first Grammy.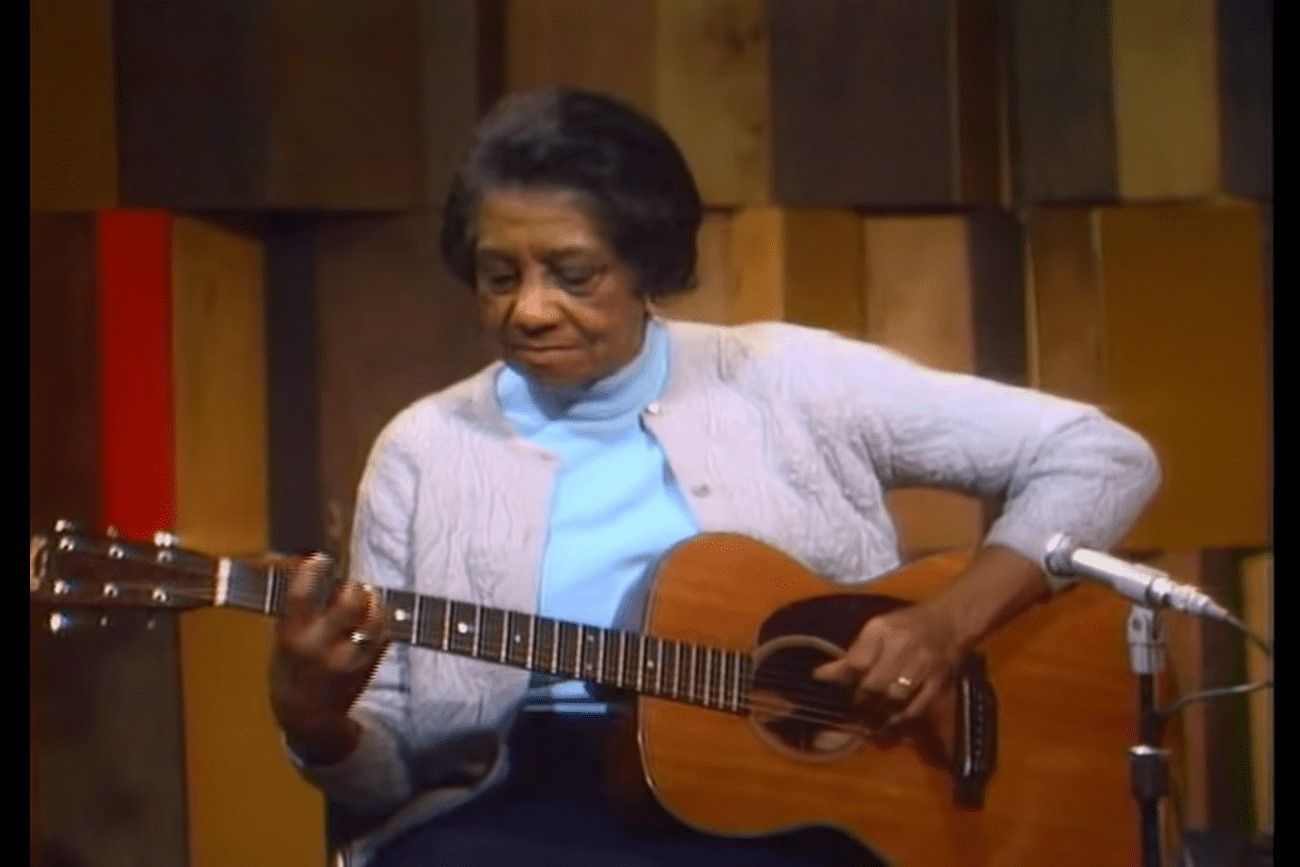 ©Spanish Flang Dang and A Jig played by Elizabeth Cotton/GtrWorkShp/YouTube.com
37. Kat Dyson – Passion and Talent
"Patience, tenacity, and goal. It will take an act of God to stop you if you have those three things in everything you chose, whether it be music or anything else! Kat Dyson claims to live by these principles, and it appears to be working.
Her playing combines breathtaking solos with challenging chord progressions that few musicians can grasp. However, Dyson has been active since the 1990s, and it is evident.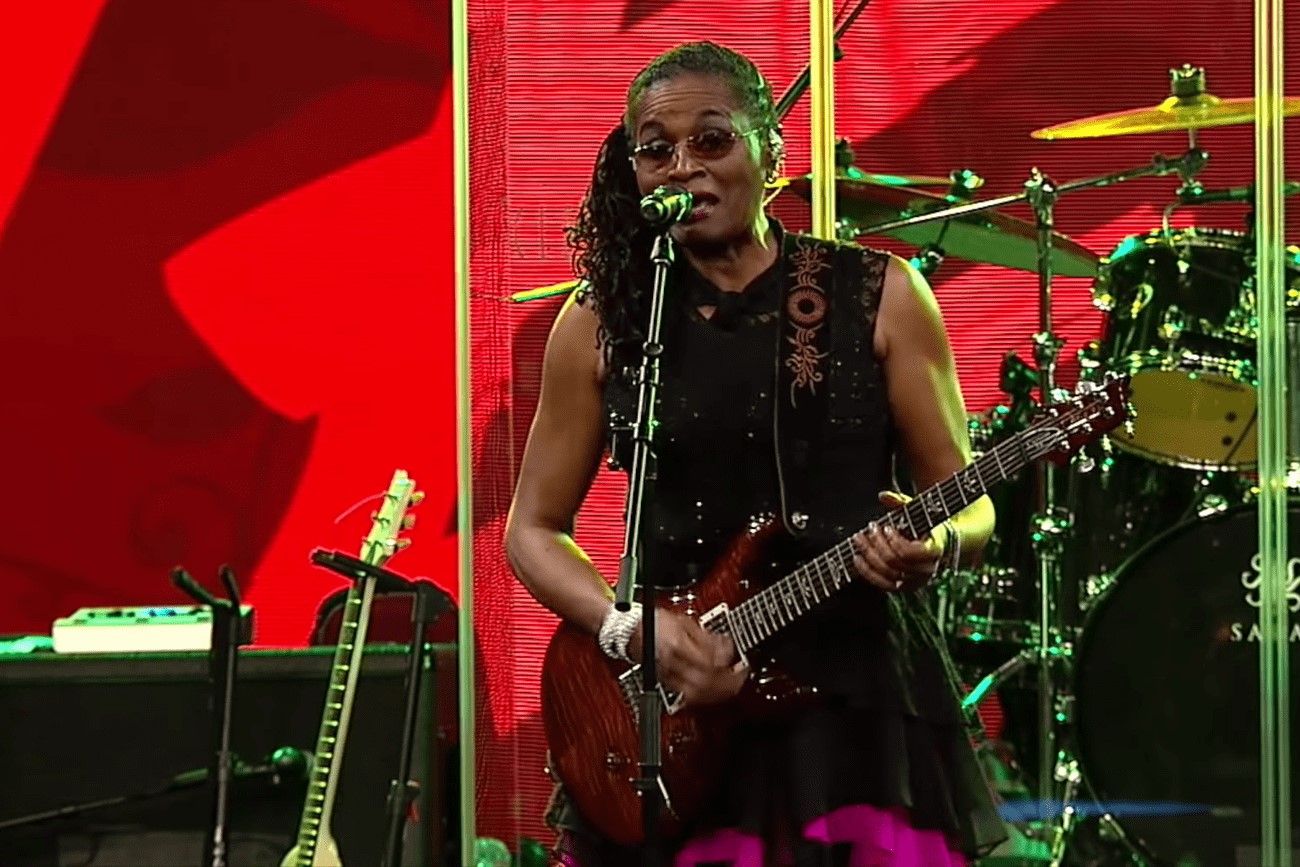 ©2017 She Rocks Awards: Kat Dyson Performs "U Know What I Like"/The Women's International Music Network/YouTube.com
38. Lita Ford – Billboard Hot 100
Lita Ford immigrated to the United States from England, and ever since, her guitar prowess has been echoing in our ears.
She was born and raised in Long Beach, California, a city nearby to Los Angeles. After leaving her band, The Runaways, to focus on her solo career, she finally met Ozzy Osbourne because of her location near major record labels. "Close My Eyes Forever," her duet with Osbourne, peaked at number 8 on the Billboard Hot 100.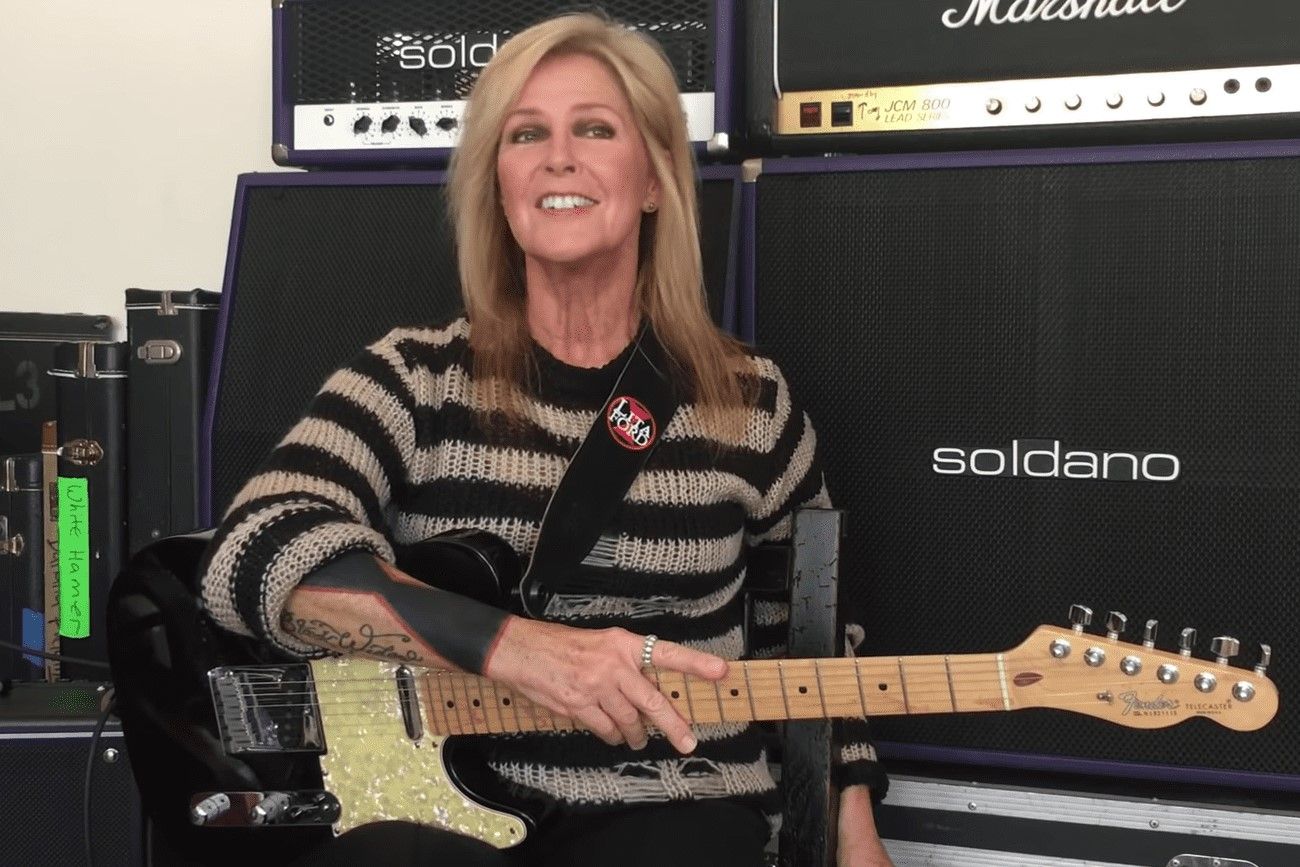 ©Lita Ford Interview — GearFest 2020/Sweetwater/YouTube.com
39. The Instrumentally Versatile Vicki Genfan
Vicki Genfan began playing the guitar at a young age, and like many other musicians on our list, she came from a musical family who instilled a love and passion for music in her. Vicki is an extremely talented musician who can also play the piano, banjo, hand percussion, trombone, and other instruments in addition to the guitar.
She released her first cassette record in 1994 and was dubbed the "Queen of Open Tunings" by illustrious publications.
©Innovative virtuoso guitar | Vicki Genfan | TEDxGreensboro/TEDx Talks/YouTube.com
40. Sharon Isbin – From a Family of Geniuses
Although Sharon Isbin didn't come from a musically inclined household, it certainly seem as though she did. Her parents, who co-authored the book Introductory Nuclear Reactor Theory as nuclear scientists, are both.
Isbin didn't fall short of her parents' expectations in terms of intellectual prowess. She received a master's degree in music from the Yale School of Music in addition to her Yale degree with honors. She has since performed in more than 200 professional orchestras.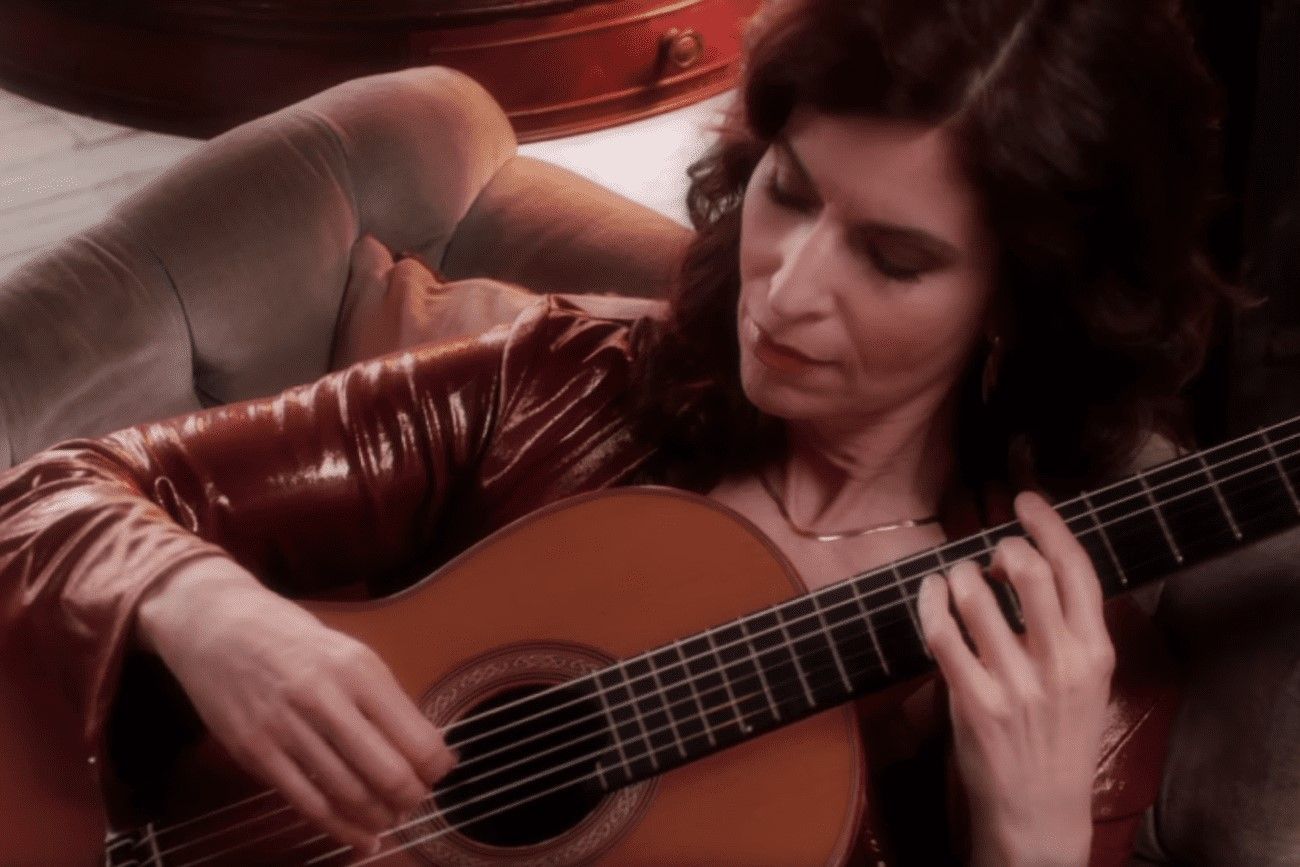 ©Sharon Isbin – Asturias/SharonIsbinVEVO/YouTube.com
41. Poison Ivy AKA Kristy Wallace
Here, we're not referring to the Batman-battling villain from comic books. The guitarist, composer, arranger, producer, and vocalist for the punk rock band The Cramps is Poison Ivy, a real-life person.
The band was established in 1976 and remained active for over 30 years before disbanding in 2009. Who in the band was her counterpart? None other than her husband Lux Interior tragically passed away, ending the band.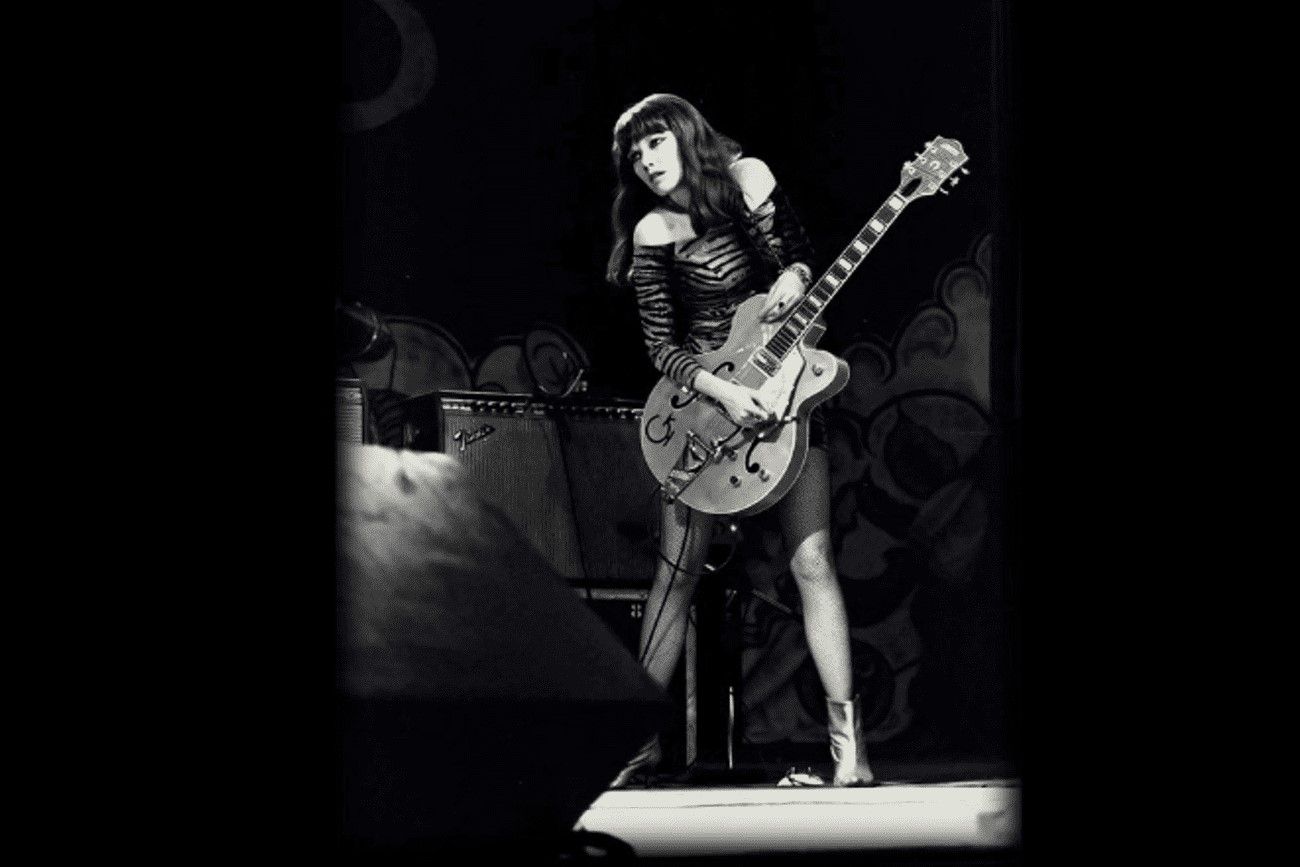 ©Terminal Sunburn - Where In The World Is Poison Ivy Rorschach?/ terminalsunburn/YouTube.com
42. Bibi McGill – Beyonce's Lead Guitarist
Being the lead guitarist and musical director of Beyonce's backup group, the Suga Mamas, is Bibi McGill's most well-known accomplishment. But McGill has grown accustomed to a variety of musicians.
Additionally, she has worked professionally with Paulina Rubio, P!nk, and the well-known Chilean band La Ley. Her biggest on-screen moment was her halftime guitar solo for Madonna's Super Bowl XLVI halftime show, which attracted 110.8 million people, was the fourth most watched halftime show ever.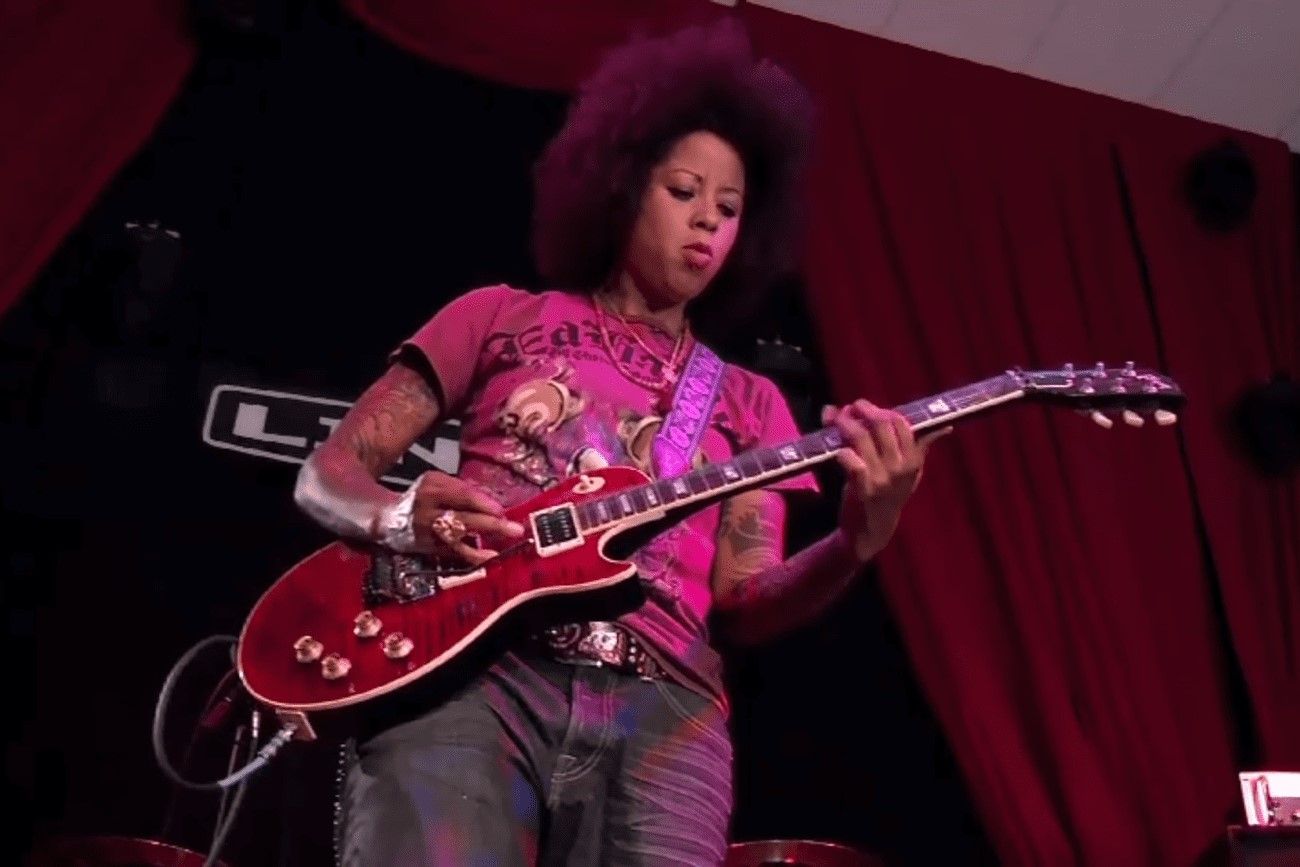 ©BiBi McGill appearing live at Musicians Institute Feb 10, 2011/Lamont Pete/YouTube.com
43. Gretchen Menn – Guitarist and Composer
Gretchen Menn's career has brought her an unusual amount of respect and acclaim. She is renowned for being superb on both the electric and acoustic guitar. Many of the publications that honor her are rock publications, such as Guitar Player Magazine's 50 Sensational Female Guitarists and Vintage Guitar Magazine's Artist of the Year award.
She also appeared on the CD She Rocks, Vol. 1 as one of only 11 women. She is the band Zepparella's founding member.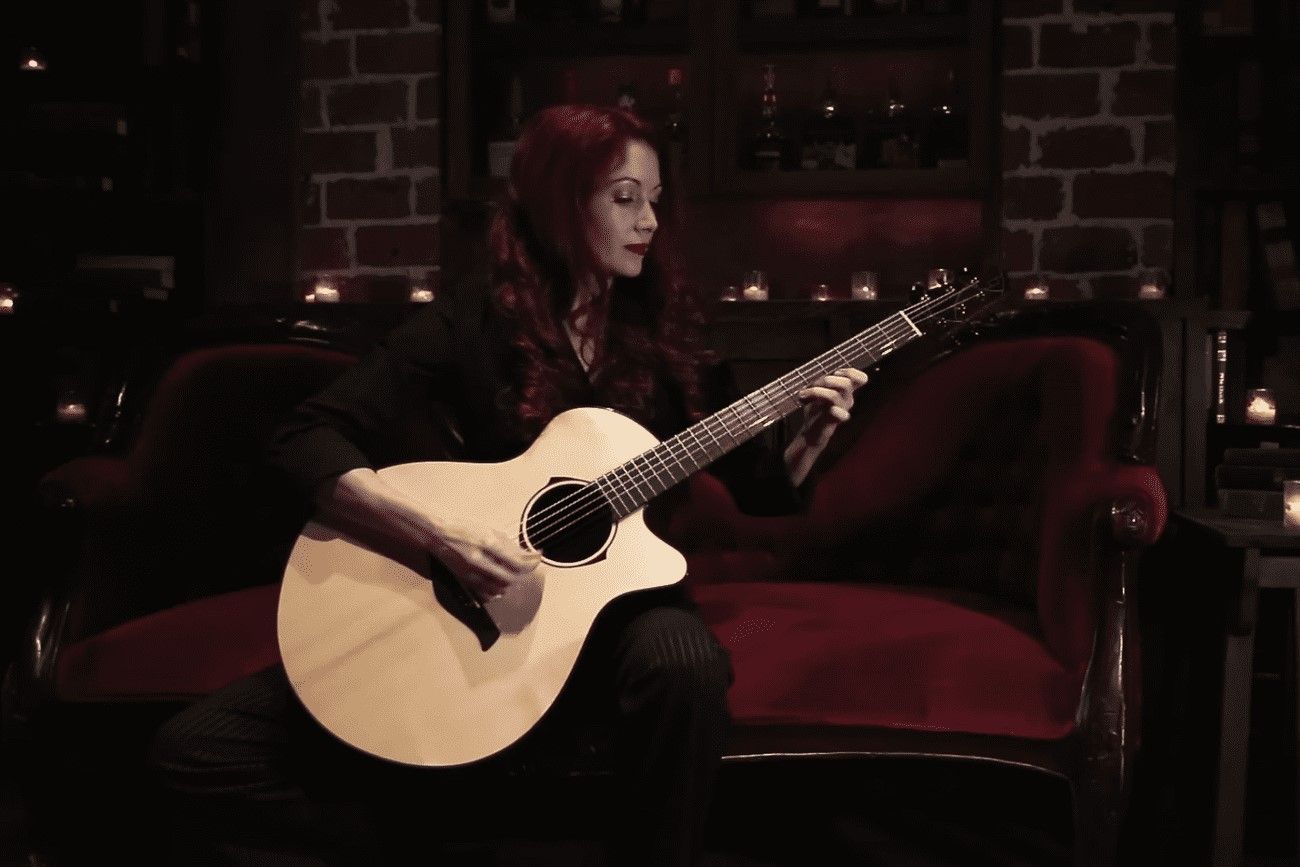 ©Minor Swing performed by Gretchen Menn/Gretchen Menn/YouTube.com
44. June Millington – Co-founder of Fanny
June Millington, who has been active since 1965 and is still going now, is known as the mother of women's music. Because the name of her band, Fanny, was intended to represent the feminine energy.
This well-known band from the 1970s had June on lead guitar and singing, with her sister Jean playing bass. The band resided in a stunning Hollywood mansion with views of the Sunset Strip that was built in the Spanish style. Many people have long regarded the group as pioneers and held them in high regard.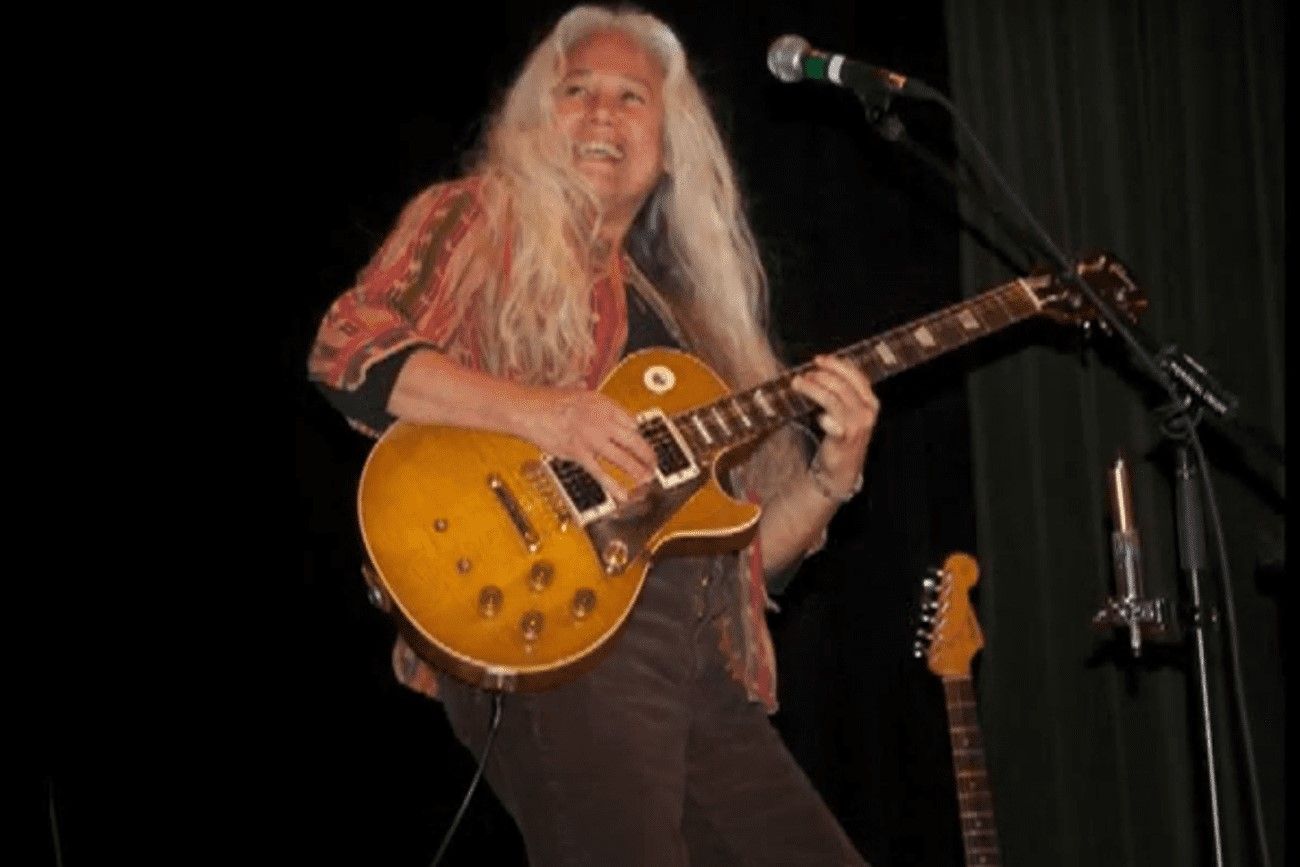 ©gt solo June Millington 1.mp4/June Millington/YouTube.com
45. Memphis Minnie AKA Lizzie Douglas
Over 200 songs were recorded by the blues vocalist and guitarist Memphis Minnie during the course of his nearly 50-year career. "Me and My Chauffeur Blues," "Nothing in Rambling," and "Bumble Bee" are a few of the most well-known songs.
When Minnie was 13 years old and fled her home to live on Beale Street in Memphis, Tennessee, she started playing the guitar. She played the guitar on street corners to make ends meet, which finally led to true professional work.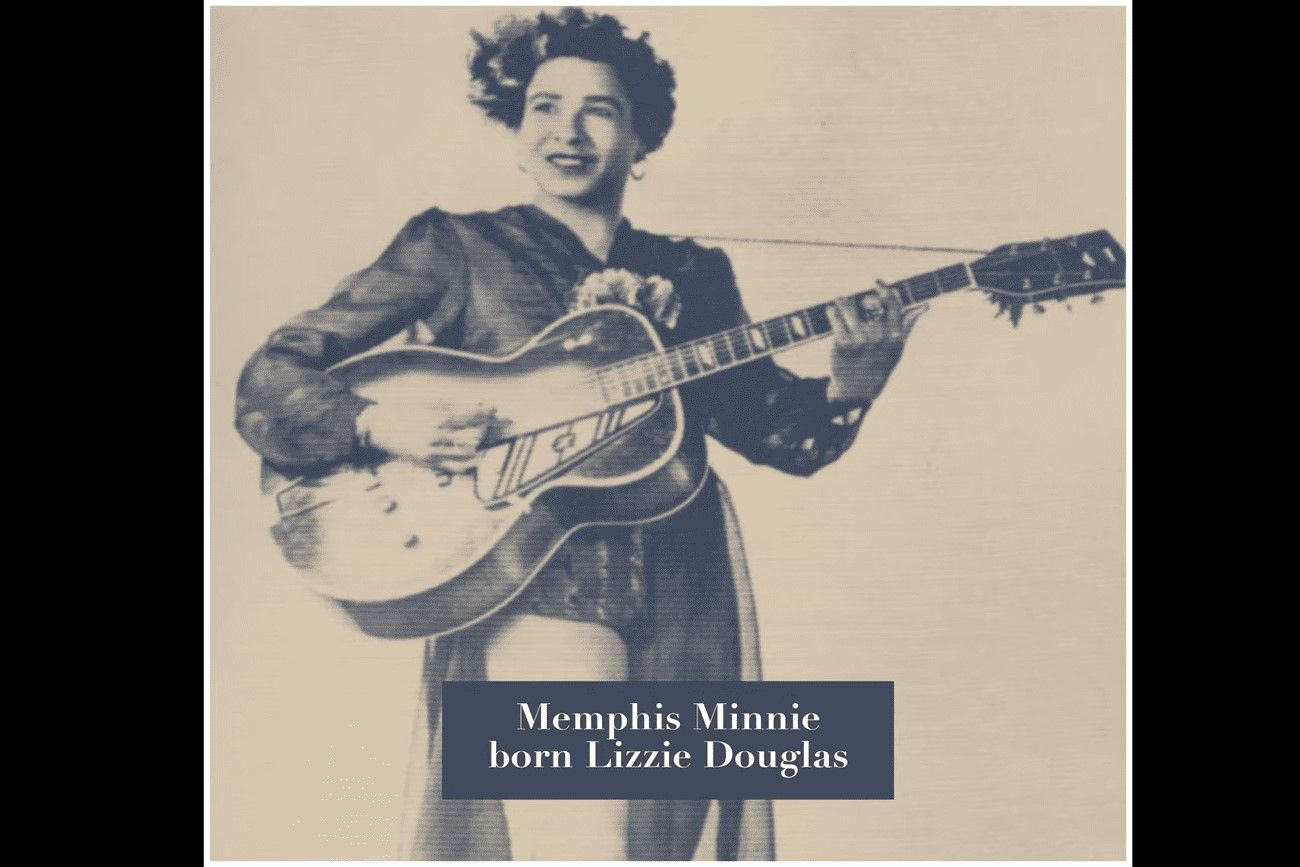 ©Killer Diller Blues/Memphis Minnie – Topic/YouTube.com
46. Bonnie Raitt – 10 Grammy Awards
Bonnie Raitt is more than just a blues-loving, award-winning guitarist. She is also a major activist who uses her platform to promote causes that are dear to her heart.
The majority of her CDs contain elements from several musical genres, such as blues, rock, folk, and country. She is a huge sensation since she has been hailed as one of the "best singers of all time" and one of the "greatest guitarists of all time."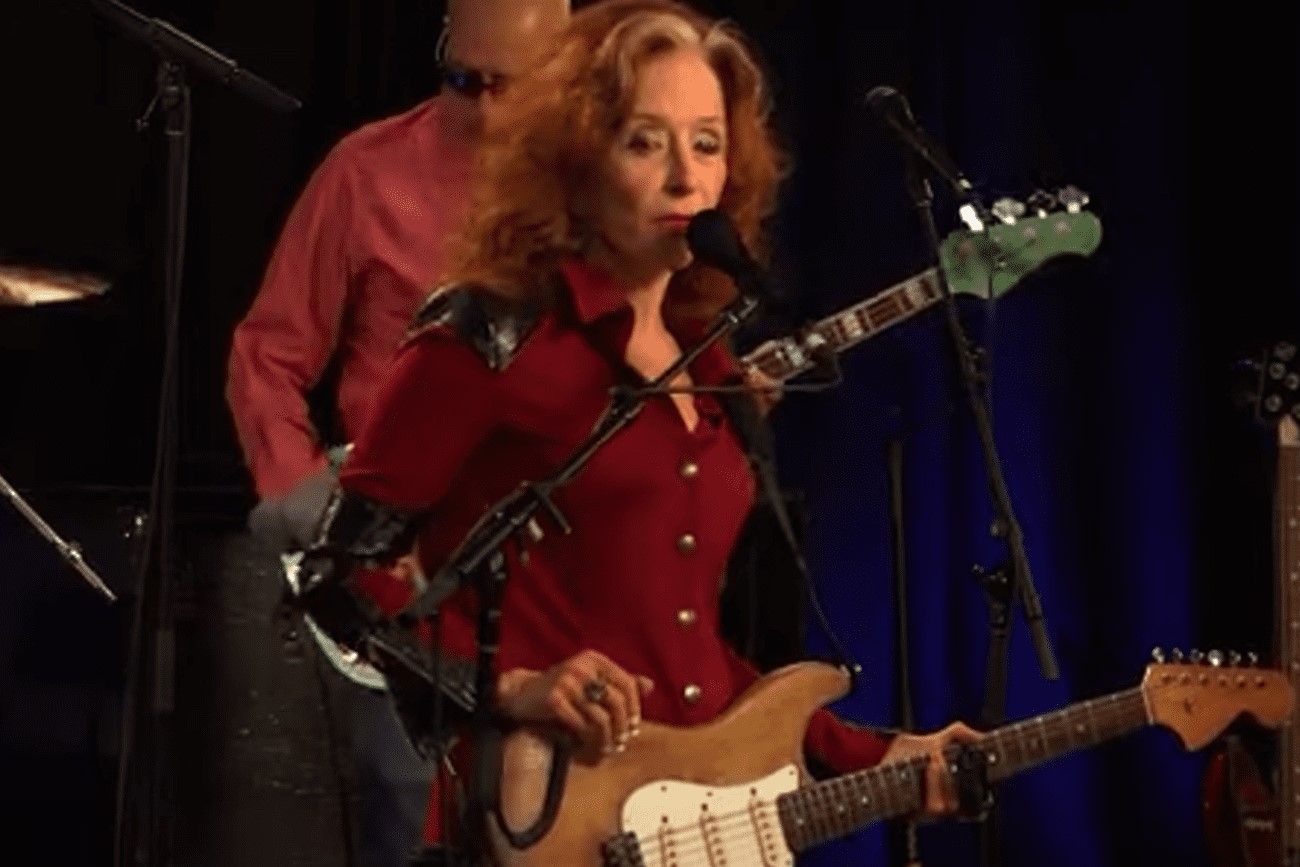 ©Bonnie Raitt performs live, for Amazon Front Row 2016/Bonnie's Pride and Joy/YouTube.com
47. Emily Remler – American Jazz Guitarist
Remler, who was born in Englewood Cliffs, New Jersey, was a proficient guitarist by the time she turned ten. She was already being referred to as "the new guitar superstar" at the age of 24. She started touring as the frontwoman of her band, Firefly, a year after turning 24 and was greeted with almost unanimous praise. When asked how she wanted to be remembered, she mentioned her contributions to women's music as well as her musical ability.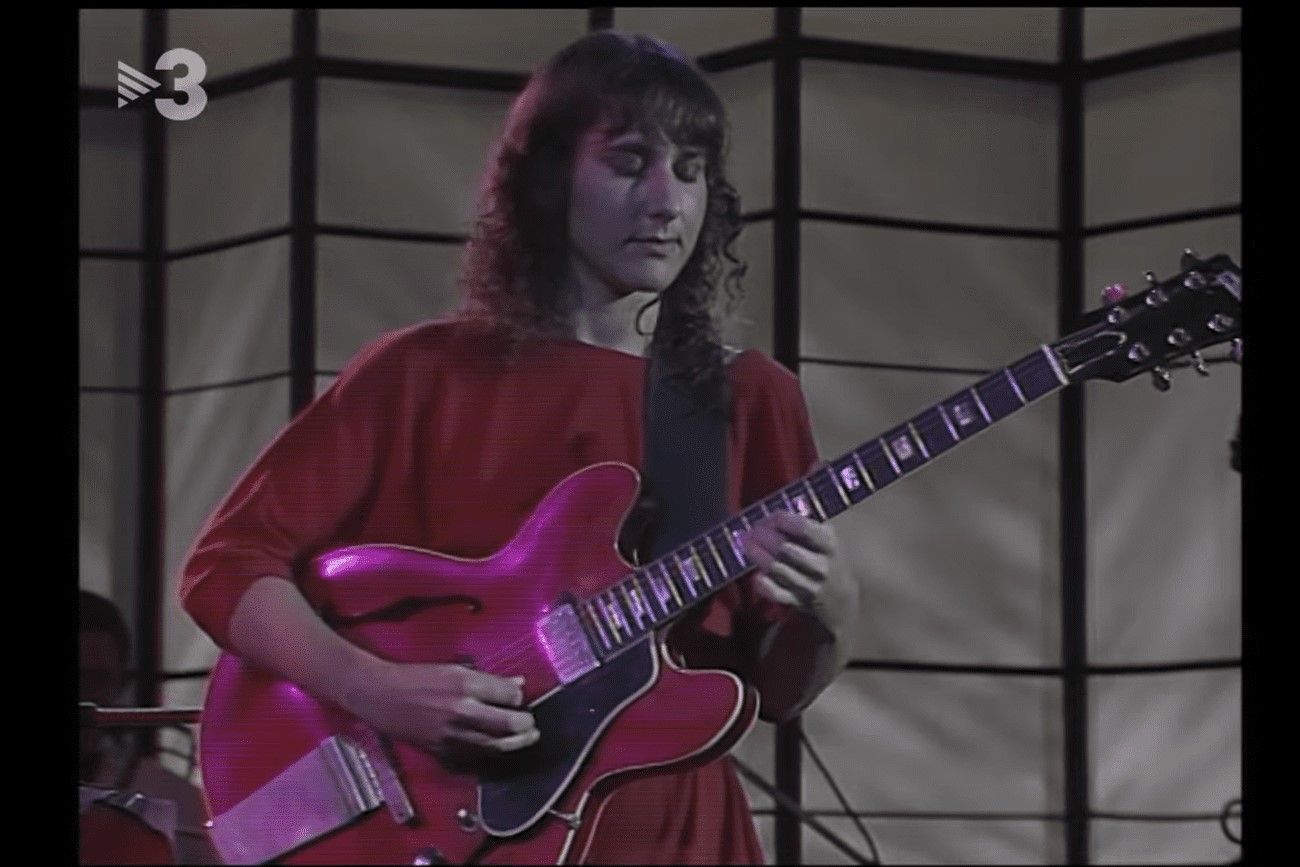 ©Emily Remler & Monty Alexander – Joy Spring/OldKingDooji/ YouTube.com
48. Joanne Shaw Taylor – The New Face of Blues
Joanne Shaw Taylor, a blues-rock guitarist and singer who was born and reared in England, was lucky enough to be discovered at the age of 16 by Dave Stewart of the Eurythmics! Taylor was quickly referred to as "the new face of the blues" by Blues Matters!, a British music magazine.
During this time, Taylor received an invitation to travel to Europe with Stewart's supergroup, D.U.P. Taylor's debut album was released a few years later. Unsurprisingly, the 38-year-old British musician has only grown in success; in March 2020, she released her Reckless Blues mini-album.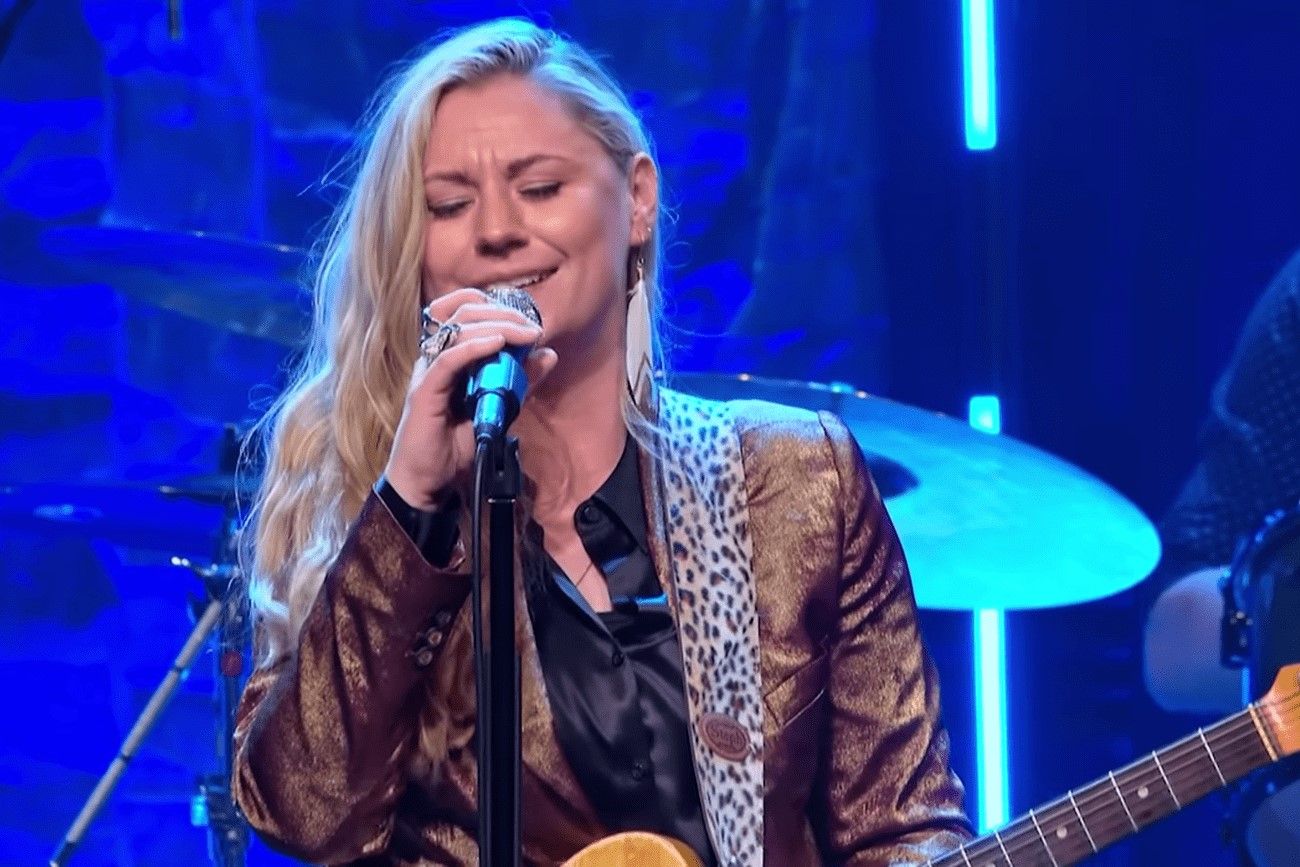 ©Joanne Shaw Taylor - "Summertime" (Live) - ft. Joe Bonamassa/Joanne Shaw Taylor /YouTube.com
49. Desireé Bassett – Special Musical Ability
Bombshell with brown eyes In the Connecticut city of New Haven, Desireé Bassett was born. By the time Bassett was two years old, it was evident that she has a unique musical talent; yet, her parents didn't support it until they overheard her singing herself to sleep.
Bassett started using a half-size Lotus guitar a year later, and the rest is pretty much history. Bassett has performed with artists like Sammy Hagar, Ted Nugent, Living Colour, Barry Goudreau, the Marshall Tucker Band, and Allman Brothers Band members up to this point. Additionally, she has two studio albums out!
©The Guitar Queen Meets Her Idol/DesireeBassett/YouTube.com
50. Allison Robertson – Rock Band Guitarist
The fact that Allison Robertson's family had previously been writing music for significant feature pictures due to her hometown of North Hollywood, California, encouraged Robertson to pick up the guitar at a young age.
In 2006, she encouraged her sister Emily to join her in starting a band they dubbed Elle Rae, a mashup of their middle names. Although she has played in numerous bands, the Chelsea Girls are her primary band.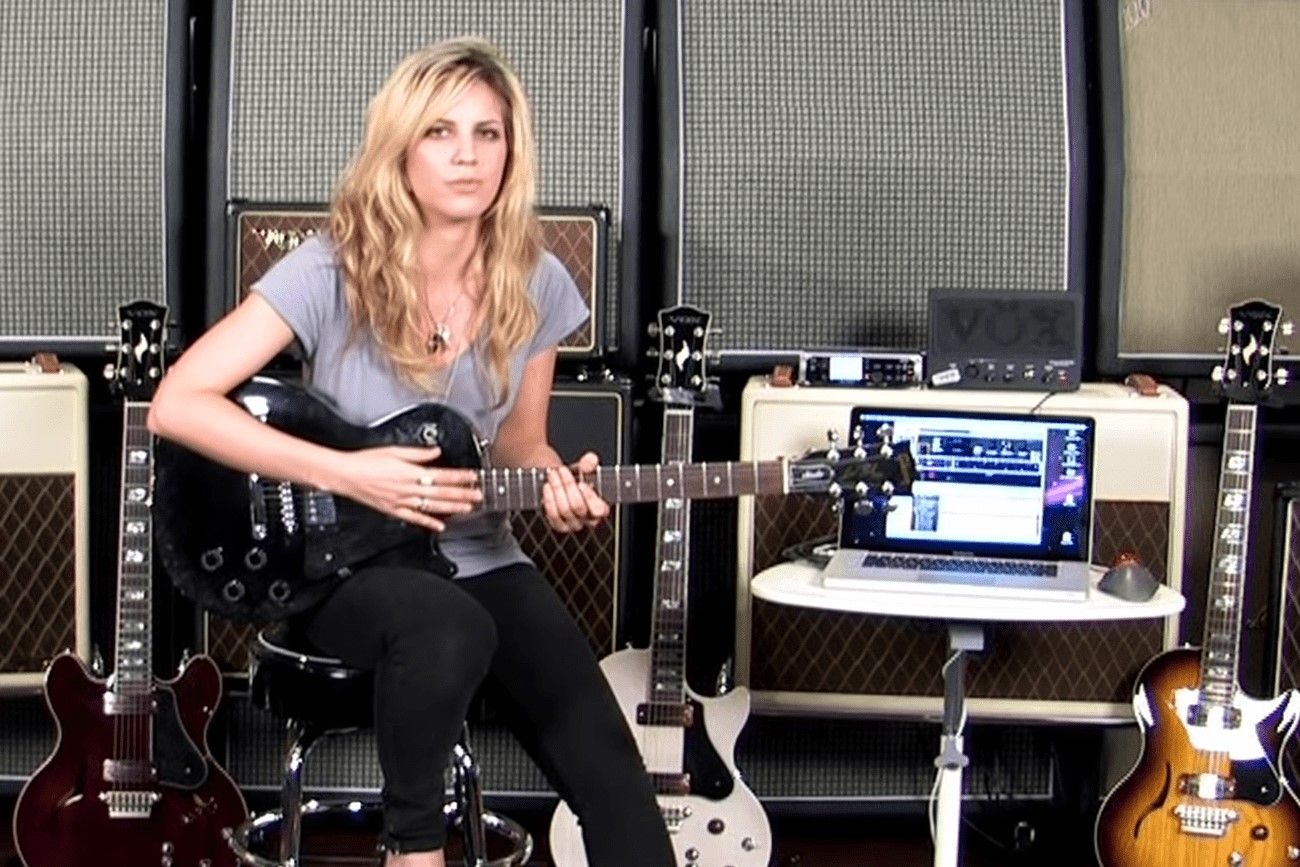 ©Allison Robertson of the Donnas checks out JamVOX -- Now in HD!/ Vox Amps/YouTube.com